CLICK IMAGE FOR QUIZ
We invite you to become members of the TNWAC no matter where you live. We welcome our friends from around the country and around the world to be part of our work to inform and inspire our communities to know the world. Visit TNWAC.org/join and TNWAC.org/donate.
Last Week's Quiz Winners
Catherine Kelly, Nashville, TN
Nick McCall, Knoxville, TN
Christine Laemmar, Brookfield, WI
David Hillinck, Alexandria, VA
Barbara Gubbin, Jacksonville, FL
Gordon Perlmutter, Reading, PA
Tim Stewart, Nashville, TN
Frank Kelly, Washington, DC
Pete Griffin, Nashville, TN
Hannah Osborne, Chapel Hill, TN
Seth Osborne, Chapel Hill, TN
David James, Stafford, VA
Pete Barclay, Peoria, IL
Nancy Williams, Rochester, NY
Hind Abi-Akar, Peoria, IL
Thomas Day, Peoria, IL
Susan Arnold, Wichita, KS
Steve Freidberg, Boston, MA
Charles Bowers, Nashville, TN
Yazzie Dospil, Nashville, TN
Heike Heinzelmann Kranz, Germany
Connie Tomczyk, Peoria, IL
Paul Love, Marlboro, VA
Barbara Cleland, Weston, CT
Martin Dixon, Canada
Keno Smith, Dallas, TX
Lee Grey, Atlanta, GA
Michael Weiss, Rockville, MD
Martha Trammell, Nashville, TN
Donna Heffner, Ponte Vedrà Beach, FL
Leslie Fort, Atlanta, GA
Brian Hall, Jacksonville, FL
Peter Sharadin, Reading, PA
George Shaw, Louisville, KY
Nipun Vashishtha, Spain
Keeton Chestnut, Cypress, TX
J.G. Howard, Cornelius, NC
Rob Thomas, St. Paul, MN
David Holmes, Spain
Jim Shepherd, Nashville, TN
Roger French, Washington, IL
Mike Nelson, Saco, ME
Marco Mura, Boston, MA
Rizwan Khan, Plano, TX
Murphy Wilkinson, Streator, IL
Hey! Are you on the list of last week winners? If you become a member of TNWAC you could be the end of the month prize winner.

MONTHLY QUIZ PRIZES ARE AWARDED TO DUES PAYING MEMBERS OF THE TNWAC WHO ARE MONG THE WEEKLY WINNERS FOR THAT MONTH.
OCTOBER QUIZ PRIZE WINNER
Charles Bowers, Nashville, TN
NOVEMBER QUIZ PRIZE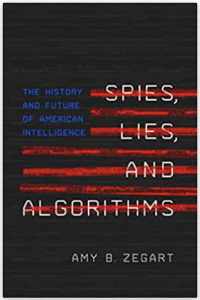 Spying has never been more ubiquitous―or less understood. The world is drowning in spy movies, TV shows, and novels, but universities offer more courses on rock and roll than on the CIA and there are more congressional experts on powdered milk than espionage. This crisis in intelligence education is distorting public opinion, fueling conspiracy theories, and hurting intelligence policy. In Spies, Lies, and Algorithms, Amy Zegart separates fact from fiction as she offers an engaging and enlightening account of the past, present, and future of American espionage as it faces a revolution driven by digital technology.
Drawing on decades of research and hundreds of interviews with intelligence officials, Zegart provides a history of U.S. espionage, from George Washington's Revolutionary War spies to today's spy satellites; examines how fictional spies are influencing real officials; gives an overview of intelligence basics and life inside America's intelligence agencies; explains the deadly cognitive biases that can mislead analysts; and explores the vexed issues of traitors, covert action, and congressional oversight. Most of all, Zegart describes how technology is empowering new enemies and opportunities, and creating powerful new players, such as private citizens who are successfully tracking nuclear threats using little more than Google Earth. And she shows why cyberspace is, in many ways, the ultimate cloak-and-dagger battleground, where nefarious actors employ deception, subterfuge, and advanced technology for theft, espionage, and information warfare.
A fascinating and revealing account of espionage for the digital age, Spies, Lies, and Algorithms is essential reading for anyone who wants to understand the reality of spying today.
---
LAST WEEK'S QUESTIONS AND ANSWERS
What in the World? Quiz – Week of November 7-13, 2022
1. Russian forces are rallying to reverse strategic setbacks against Ukrainian forces in the eastern region with advances in Donetsk at Bakhmut. The counter attack is led by THIS militia group headed by Yevgeny Prigozhin with a record of fighting for Moscow in Syria, Libya and the Sahel region of Africa.
A. Moscow Legion
B. Red Expeditionary Force
C. Homeland Victory Militia
D. Wagner Group
Correct Response: D. Wagner Group
https://www.nytimes.com/2022/11/06/world/europe/russia-bakhmut-wagner-group.html?campaign_id=51
2. Famine is again gripping THIS east African nation but the government in Mogadishu has been slow to make an official declaration, unlocking international aid, to avoid giving a strategic advantage to the insurgent Al Shabab group.
A. Djibouti
B. Sudan
C. Somalia
D. Kenya
Correct Response: C. Somalia
https://www.nytimes.com/2022/11/06/world/africa/somalia-famine-hunger.html
3. Some fans of World Cup participants have been offered free trips to THIS tournament host nation in exchange for endorsements, agreements to withhold criticism and reporting of others who are critical of the hosts humanitarian issues.
A. Brazil
B. Indonesia
C. Qatar
D. Spain
Correct Response: C. Qatar
https://www.nytimes.com/2022/11/03/sports/soccer/qatar-fans-travel.html
4. Israelis voted to return THIS former Prime Minister to power along with what critics fear will be a far-right ruling coalition.
A. Netanyahu
B. Herzog
C. Lapid
D. Ben-Ami
Correct Response: A. Netanyahu
https://www.msn.com/en-us/news/world/israel-prime-minister-yair-lapid-congratulates-benjamin-netanyahu-on-election-victory/ar-AA13HC2w
5. World leaders meeting in Egypt for the 2022 Conference of the Parties, known by THIS short title, are taking up the issue of compensation for developing nations harmed by generations of carbon producing industries in wealthy nations.
A. Paris 16
B. COP 27
C. UNCAC
D. Climate SOS
Correct Response: B. COP 27
https://www.lemonde.fr/en/le-monde-africa/article/2022/11/07/cop-27-south-africa-a-testing-ground-for-a-just-energy-transition_6003224_124.html
6. Imran Khan, former prime minister of THIS country who has been challenging the government to restore his office, was shot in the leg in an assassination attempt while on a campaign parade.
A. Malaysia
B. Pakistan
C. Bangladesh
D. Afghanistan
Correct Response: B. Pakistan
https://www.bbc.com/news/world-asia-63542478.amp
7. South Korea and the United States extended military drills in the wake of THIS provocative action by North Korea.
A. Landing special forces by mini-sub to infiltrate a South Korean naval base
B. Firing over two dozen missiles in simulated attacks on the South and the U.S.
C. Seizure of South Korean fishing boats in the Yellow Sea
D. Test firing a nuclear weapon
Correct Response: B. Firing over two dozen missiles in simulated attacks on the South and the U.S.
https://www.msn.com/en-gb/news/world/north-korea-missile-tests-were-practice-to-attack-south-us/ar-AA13OmmW
8. The election victory of Lula da Silva has yet to be acknowledged by THIS incumbent President of Brazil, but his office said he would follow the transition of power.
A. Nicolas Maduro
B. Alberto Fernandez
C. Pedro Castillo
D. Jair Bolsonaro
Correct Response: D. Jair Bolsonaro
https://nypost.com/2022/11/05/brazils-jair-bolsonaro-brooded-for-2-days-before-bowing-to-defeat/
9. China's trade lost ground in October, the first downturn for imports and exports since May 2020, as a result of global recession and THIS domestic policy.
A. One child policy
B. Zero Covid
C. Repression of Uighurs in Xinjiang
D. Fears of a Taiwan invasion
Correct Response: B. Zero Covid
https://www.reuters.com/world/china/chinas-exports-imports-shrink-oct-covid-curbs-global-slowdown-jolt-demand-2022-11-07
10. Ukraine President Zelensky charged THIS country with support to Moscow's invasion by supplying drones, missiles and other weapons, including "kamikaze" drones currently targeting Ukrainian energy infrastructure.
A. China
B. Iran
C. North Korea
D. Pakistan
Correct Response: B. Iran
https://www.bbc.com/news/world-europe-63528183
Copyright: 2022 Tennessee World Affairs Council
---
THANKS TO OUR PARTNERS IN GLOBAL AFFAIRS AWARENESS AND EDUCATION OUTREACH

A PROUD MEMBER OF THE WORLD AFFAIRS COUNCILS OF AMERICA SINCE 2007
THANKS TO OUR PARTNERS IN GLOBAL AFFAIRS AWARENESS AND EDUCATION OUTREACH
THANKS TO OUR PARTNERS IN GLOBAL AFFAIRS AWARENESS AND EDUCATION OUTREACH

THANKS TO OUR PARTNERS IN GLOBAL AFFAIRS AWARENESS AND EDUCATION OUTREACH
THE MISSION of the nonprofit, nonpartisan Tennessee World Affairs Council is to promote international awareness, understanding and connections to enhance the region's global stature and to prepare Tennesseans to thrive in our increasingly complex and connected world.
THE VISION of  the Tennessee World Affairs Council is a well-informed community that thinks critically about the world and the impact of global events.