TNWAC This Week
February 1, 2021
Dear Members and Friends:
The strategic relationship between the United States and the Republic of Korea, South Korea, as well as the important commercial relationship with the ROK, was the focus of a special Global Town Hall Thursday as part of the two-part panel discussions organized by the Korea Economic Institute (KEI) and the World Affairs Councils of America.
The stellar panel included Deputy Assistant Secretary of State for Korea and Japan Marc Knapper; Economic Minister Youngjae Kim of the ROK Embassy and KEI's Senior Director (and Chattanoogan) Troy Stangarone. The morning session, a Business Insider Brief, was held in partnership with the Nashville Area Chamber of Commerce International Business Council. The evening program was kicked off with keynote remarks from Commissioner Bob Rolfe, TN Economic and Community Development Department.
The alliance with South Korea is important to America's security and the commercial ties are important to Tennessee's prosperity. Companies like Hankook Tire and LG electronics employ thousands of Tennesseans and other Korea-based companies across the state are important to local economies. The distinguished panelists featured in this program explored all these aspects of the US-Korea alliance. I recommend a viewing of these programs. Details on archives below.
Speaking of archives, did you know TNWAC archives all of its Webinars. That's on top of the Podcast series — "Global Tennessee" — that was launched long before the pandemic drove in-person speaker programs onto Zoom.  We're up to Episode 120 in the Podcast series with about 60 of those being both Pods and Webinar videos. I suggest you take a look at our YouTube.com/TNWAC channel and our Podcasts at SoundCloud.com/tnwac or look for "Global Tennessee" Podcasts wherever you get your Pods. I recommend the Election2020 series of Webinars from the fall. They include a fantastic array of panels and interviews on every topic a voter should know before going to the polls. The insights and perspectives offered in those programs remain as valuable today as they were last October and November.
Lastly, I invite you to become a member of the World Affairs Council if not already one. We're about to kick off a 14/14/14 campaign. We're 14 days out from February 14th,Valentines Day, and we'll be celebrating our 14th anniversary. It would be a great time for you to join with a $14/month continuing membership signup. Look for details in email later today.
Sincerely,
Patrick W. Ryan
Founding President, TNWAC
---
MARK THE CALENDAR
February 2 | Tuesday | 7:00pm CT | "Global Nashville with Karl Dean" – Guest Matt Kisber, Chairman Silicon Ranch and former Commissioner Tennessee Department of Economic and Community Development | Register
February 3 | Wednesday | 1:00pm CT | Global News Review | Register (Every Wednesday)
February 7 | Sunday | 1:00pm CT | Anne Smedinghoff Academic WorldQuest Challenge – Practiice Match | Info & Registration
February 9 | Tuesday| 7:00pm CT | Global Dialogue | Hon. Bayan Sami Abdul Rahman | Kurdistan Regional Government Representative to the United States | Register
February 10 | Wednesday | 1:00pm CT | Global News Review | Every Wednesday
February 16 | Tuesday | 7:00pm CT | "Global Nashville with Karl Dean" – Guest TBA |  Every two weeks
February 17 | Wednesday | 1:00pm CT | Global News Review | Every Wednesday
March 7 | Sunday | 1:00pm CT | Anne Smedinghoff Academic WorldQuest Challenge – Championship | Info & Registration
Mark your calendar for he bi-weekly "Global Nashville with Karl Dean" and "Global Dialogue" (every other Tuesday evening) programs and with the weekly "Global News Review (Wednesdays at 1pm).
---
"GLOBAL NASHVILLE": KARL DEAN TALKS WITH MATT KISBER
This Tuesday evening join the conversation with former Nashville Mayor Dean and former TN ECD Commissioner Kisber about developments in Nashville. Learn about Silicon Ranch, one of the largest solar power producers in the country. Hear how the state's Economic and Community Development Department brings global businesses to Tennessee. Register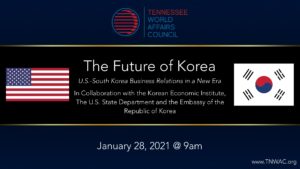 ICYMI U.S. AND TENNESSEE RELATIONS WITH SOUTH KOREA
The World Affairs Council in conjunction with the Korea Economic Institute (KEI), the U.S. Department of State and the Embassy of South Korea brought you a special project titled, "The Future of Korea" on January 28th. This two-part program provided insight and perspectives on the relationship between our country and our state with an important strategic and economic partner, the Republic of Korea.  If you missed these sessions you can catch them on video and audio:
Global Town Hall: US-Korea Relations (evening program) | Video | Podcast || Business Insiders Brief: US and Tennessee Commercial Relations with Korea (morning program) | Video | Podcast
GLOBAL NEWS REVIEW | WEDNESDAY @ 1PM
Join our team of Ambassador Dick Bowers, Dr. Breck Walker and LCDR Patrick Ryan every Wednesday for expert analysis of current global developments. Give Dick, Breck and Pat 45 minutes and they'll give you the world. Get analysis and commentary on the top events and issues leading global news reports and hard to find insights and perspectives from diplomacy, academia and intelligence. This week we'll be joined by guest panelists Travis Austin, a staff intern at TNWAC who attends Lipscomb University. Register Here
This Wednesday at 1pm
COVID-19: Global Update

Myanmar: Leadership Trouble Brewing

Topic #3: TBD

Closing with a few words about Ralph Bunche
OUR CONVERSATION WITH KURDISTAN REGIONAL GOVERNMENT REP TO THE USA
Join us for this conversation with the Kurdistan Regional Government Representative to the U.S., Bayan Sami Abdul Rahman, a great friend of the Tennessee World Affairs Council and homeland connection to the thousands of Iraqi Kurds who call Nashville home as new Americans. TNWAC thanks her for her previous programs with the Council including hosting our visiting student groups in Washington, D.C. February 9th at 7:00 pm CT Register
AROUND THE WORLD: USIP OFFERS ONLINE COURSES TUITION-FREE
The current responses to COVID-19 and systemic racism have created an increased demand for resources and training to help today's peacebuilders transform violent conflicts in their communities and to assist people who are seeking nonviolent change around the world. To meet that demand, the U.S. Institute of Peace is extending tuition-free access to its entire catalog of online courses until March 31, 2021.  Details
2020 NOBEL LAUREATE WORLD FOOD PROGRAM: FEEDING THE WORLD THROUGH INNOVATION – PROGRAM
You're invited by our sister World Affairs Council in Charlotte to join them for a virtual program with WFP Program Chief Gabriela Alvorado, UN WFP Innovation Accelerator Bernhard Kowatsch and Director of Sealed Air's Materials Lifecycle Team to discuss "Feeding the World through Innovation: How Technology and the Corporate Sector Collaborate to Fight Global Hunger. This important and fascinating program is set for Thursday, February 4th at 9:00 a.m. CST. Details and Registration
Carnegie Connects: Can America Still Promote Democracy Abroad?
CAN AMERICA STILL PROMOTE DEMOCRACY ABROAD? – CARNEGIE PROGRAM
U.S. President Joe Biden has promised to convene the Global Summit for Democracy during his first year in order to "strengthen our democratic institutions, honestly confront the challenge of nations that are backsliding, and forge a common agenda to address threats to our common values." Some argue such a U.S.-hosted summit is too unwieldy; too complicated, especially regarding who to invite; or, in view of the United States' own democracy deficit, not credible. Others believe that if properly structured, such a summit might help address that deficit and develop a new blueprint for U.S. global engagement on democracy. Join Carnegie as Frances Z. Brown, Bruce W. Jentleson, and Stewart Patrick sit down with Aaron David Miller to discuss these and other issues. Thursday, February 4 at 10:00 a.m. CST. Details and Registration
ACADEMIC WORLDQUEST
The Anne Smedinghoff AWQ challenge is on. This annual competition among high school students is set for a practice round on February 7 (date change from Jan 31) and a joint championship match on March 7th (date change from Feb 28) with our sister World Affairs Councils in New Hampshire and Maine. We invite students and teachers to form teams and participate in this years program. More information on our TNWAC.org/AWQ page.  
"DAILY CHATTER" – THE TNWAC CUSTOMIZED MEMBERS' NEWSLETTER
TNWAC offers members a complimentary subscription to the popular weekday global affairs newsletter "Daily Chatter." It brings you a quick, two-minute, perspective on the world each day. TNWAC active dues paying members receive this valuable service at no charge. If you are a Member and haven't gotten the "Daily Chatter" signup link yet, drop us a note at Chatter@TNWAC.org. If you're not a member why not join today to get the "Daily Chatter" and other member benefits. DETAILS/JOIN
---
THANKS TO OUR PARTNERS IN GLOBAL AFFAIRS AWARENESS AND EDUCATION OUTREACH
THANKS TO OUR PARTNERS IN GLOBAL AFFAIRS AWARENESS AND EDUCATION OUTREACH
THE MISSION of the nonprofit, nonpartisan Tennessee World Affairs Council is to promote international awareness, understanding and connections to enhance the region's global stature and to prepare Tennesseans to thrive in our increasingly complex and connected world.
THE VISION of  the Tennessee World Affairs Council is a well-informed community that thinks critically about the world and the impact of global events.