TNWAC This Week
January 26, 2021
Dear Members and Friends:
"Team Spirit." It was a joint military exercise between forces of the United States and the Republic of Korea (ROK), or South Korea. It was a regular fixture in America's Western Pacific defense posture from the mid-70s through the 90s, especially focused on defending our allies on the Korean Peninsula. It was a commitment founded on blood and treasure in the 1950s when the south was overrun by troops of the Communist regime in the north. A desperate situation was turned around by U.S. reinforcements and formation of a sixteen-nation coalition under the United Nations flag.
"Team Spirit" was my introduction to Korea and our relationship with an important democratic ally in East Asia. As a Navy junior officer aboard a frigate I sailed in the waters east of Korea as part of the multi-service, multi-national exercise to prepare to defend against a possible next invasion from the North. On a visit to the city of Taegu I was startled to be on the street during a nationwide air-raid drill, a chilling reminder of the reality of life in a country living with a hostile neighbor.
The story of America's relationship with South Korea is more than the military, national security dimension. Our friends in South Korea created an economic miracle from the ashes of war. Kongdan Oh, an expert at the Brookings think-tank, reflected on growing up in the 1950s and 60s amid poverty but noted, "The Korean economic miracle … in the 1960s and 1970s is a story of dazzling national transformation from poverty to wealth."
South Koreans built an economic powerhouse that earned them a seat on  the Group of Twenty (G-20), the collection of leading global economies. It stands as 10th among economic powers and has seen per capita income grow to over $43,000 a year.
An important aspect of Tennessee's prosperity is South Korea's investment. The U.S. State Department reported that South Korean foreign direct investment (FDI) more than tripled since 2011 to $61.1 billion in 2019 and that the ROK was the second-largest Asian source of foreign direct investment into the United States. South Korea is America's seventh largest trading partner.
For Tennessee that means jobs. FDI accounts for a significant part of the 140,000 plus jobs in the state built on the $38.5 billion of investments.
Tennessee Economic and Community Development (TN ECD) Commissioner Bob Rolfe recently noted there are 40 South Korea firms, employing over 4,000 Tennesseans in the state including LG, Hankook AtlasBX, and Hyosung Heavy Industries, "that call Tennessee home" and that Tennessee was "open for business."
Given the importance of the U.S.-Korea relationship in general and the Tennessee-Korea relationship in particular, the World Affairs Council welcomed the opportunity to host the "Future of Korea" project in cooperation with the World Affairs Councils of America and the Korea Economic Institute.
Our two-part program will offer discussions with the ROK Embassy's Economic Minister, America's Deputy Assistant Secretary of State for Korea and a Senior Director of the Korean Economic Institute.
On Thursday the program opens at 9:00 a.m. (CT) with a "Business Insider" brief via Zoom in partnership with the Nashville Area Chamber of Commerce and Baker Donelson.
That evening, at 5:30 p.m. (CT) the speakers will address a Global Town Hall via Zoom on the overarching U.S.-Korea relationship as we enter a new era of partnership, addressing the commercial, national security, political and cultural connections between the countries. TN ECD Commissioner Rolfe will set the scene with his keynote remarks.
You are invited to participate in these special programs that give you access to important representatives and decision makers. Join us on Thursday for these programs to learn more about South Korea and why it's important to American security, prosperity and global standing.
Patrick W. Ryan
Founding President, TNWAC
---
MARK THE CALENDAR
January 27 | Wednesday | 1:00pm CT | Global News Review | Register (Every Wednesday)
January 28 | Thursday | 9:00am CT | Future of Korea Project & IBC Business Insiders' Series | Register
January 28 | Thursday | 5:30am CT | Future of Korea Project Global Town Hall: US-Korea Relations – Keynote TNECD Commissioner Bob Rolfe | Register
February 2 | Tuesday | 7:00pm CT | "Global Nashville with Karl Dean" – Guest TBA
February 3 | Wednesday | 1:00pm CT | Global News Review | Register (Every Wednesday)
February 9 | Tuesday| 7:00pm CT | Global Dialogue | Hon. Bayan Sami Abdul Rahman | Kurdistan Regional Government Representative to the United States | Register
Mark your calendar for he bi-weekly "Global Nashville with Karl Dean" and "Global Dialogue" (every other Tuesday evening) programs and with the weekly "Global News Review (Wednesdays at 1pm).
---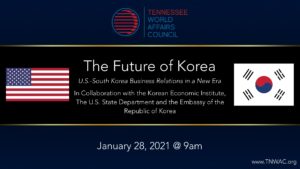 U.S. AND TENNESSEE RELATIONS WITH SOUTH KOREA
The World Affairs Council is working with the Korea Economic Institute (KEI), the U.S. Department of State and the Embassy of South Korea to bring you a special project titled, "The Future of Korea" on January 28th. This two-part program will provide insight and perspectives on the relationship between our country and our state with an important strategic and economic partner, the Republic of Korea. Join us for a morning brief in partnership with the International Business Council at the Nashville Chamber and an evening Global Town Hall featuring keynote remarks from Tennessee Economic and Community Development Commissioner Bob Rolfe. The panels include representatives from KEI, the State Department and the ROK Embassy.  Register: Morning Meeting with IBC | Register: Evening Global Town Hall
GLOBAL NEWS REVIEW | WEDNESDAY @ 1PM
Join our team of Ambassador Dick Bowers, Dr. Breck Walker and LCDR Patrick Ryan every Wednesday for expert analysis of current global developments. Give Dick, Breck and Pat 45 minutes and they'll give you the world. Get analysis and commentary on the top events and issues leading global news reports and hard to find insights and perspectives from diplomacy, academia and intelligence.
This Wednesday at 1pm
Renewing U.S. Global Engagement
Banning Nuclear Weapons: A New Treaty Takes Effect
Navalny Jailed, Russians Take to the Streets
ACADEMIC WORLDQUEST
The Anne Smedinghoff AWQ challenge is on. This annual competition among high school students is set for a practice round on February 7 (date change from Jan 31) and a joint championship match on March 7th (date change from Feb 28) with our sister World Affairs Councils in New Hampshire and Maine. We invite students and teachers to form teams and participate in this years program. More information on our TNWAC.org/AWQ page.  
"WHAT IN THE WORLD? WEEKLY QUIZ"
Calling all quiz enthusiasts. Every Monday we launch ten questions derived from the previous week's global news reports. Join our quiz takers from around Tennessee and around the world in this lively quiz. And if you are among the weekly winners, and you're a TNWAC active dues paying member, you're eligible for the monthly quiz prize. Look for the quiz on our Web site and in your email if you're a TNWAC newsletter subscriber. Get on the newsletter list on our home page, TNWAC.org. [December prize: "The Back Channel: A Memoir of American Diplomacy and the Case for Its Renewal," by Ambassador William Burns — named this week as Central Intelligence Agency Director nominee by President-Elect Biden]
"DAILY CHATTER" – THE TNWAC CUSTOMIZED MEMBERS' NEWSLETTER
TNWAC offers members a complimentary subscription to the popular weekday global affairs newsletter "Daily Chatter." It brings you a quick, two-minute, perspective on the world each day. TNWAC active dues paying members receive this valuable service at no charge. If you are a Member and haven't gotten the "Daily Chatter" signup link yet, drop us a note at Chatter@TNWAC.org. If you're not a member why not join today to get the "Daily Chatter" and other member benefits. DETAILS/JOIN
---
THANKS TO OUR PARTNERS IN GLOBAL AFFAIRS AWARENESS AND EDUCATION OUTREACH
THANKS TO OUR PARTNERS IN GLOBAL AFFAIRS AWARENESS AND EDUCATION OUTREACH
THE MISSION of the nonprofit, nonpartisan Tennessee World Affairs Council is to promote international awareness, understanding and connections to enhance the region's global stature and to prepare Tennesseans to thrive in our increasingly complex and connected world.
THE VISION of  the Tennessee World Affairs Council is a well-informed community that thinks critically about the world and the impact of global events.