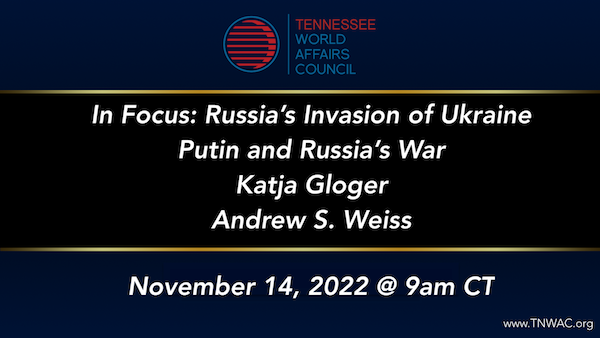 Thank you for your support to make our work possible. 
The Tennessee World Affairs Council
in association with the
American Council on Germany
and with Belmont University Center for Global Citizenship, University of Tennessee Center for Global Engagement and the Nashville Area Chamber of Commerce
In Focus: Russia's Invasion of Ukraine
via Zoom
Putin and Russia's War
with
Katja Gloger
Journalist and Author

Andrew S. Weiss
James Family Chair and Vice President for Studies, Carnegie Endowment for International Peace
Monday, November 14, 2022
@ 9:00 a.m. CT

It is being reported that Russian President Vladimir Putin will not travel to Bali next week to participate in the G20 Summit. This was confirmed overnight by Moscow's embassy to Indonesia. At the same time, we are seeing reports that the Kremlin is withdrawing its troops from Kherson, the only regional capital it managed to capture since its full-scale invasion of Ukraine began in February. The retreat from Kherson is one of the most serious blows to Russia in Putin's war. Just a month ago, he declared that Kherson and three other regions in Ukraine are part of the Russian nation at an event in Moscow's Red Square.
Join us for a discussion with Putin biographers and Russia experts Katja Gloger and Andrew S. Weiss about the war in Ukraine.
---
Journalist and author Katja Gloger studied Eastern European History and Political Science in Hamburg and Moscow and has an MBA from Purdue University, Indiana. She started her career as a news reporter for German Television ARD. As Moscow Bureau Chief for Stern magazine she witnessed the fall of the Soviet Union and the emergence of a new Russia. She also worked as Foreign Editor for Stern magazine – with a focus on Russia, international affairs, and security policy. She also served as Stern's Senior Political Correspondent in Washington, DC, from 2004 until the end of 2008. Since 2009, she has served on the magazine's editorial board.
Ms. Gloger won the prestigious German Henri Nannen Award for Best Documentary Reporting in 2010. She is a Board member of the German section of Reporters Without Borders, a human rights organization defending the freedom of the press, and a member of the Atlantik-Brücke. She has published several books on Russia, including Putin's World: The New Russia, Ukraine, and the West.
---
Andrew S. Weiss (ACG Young Leader) is the James Family Chair and vice president for studies at the Carnegie Endowment for International Peace, where he oversees research on Russia and Eurasia. His graphic novel biography of Vladimir Putin, Accidental Czar: the Life and Lies of Vladimir Putin, will be published by First Second/Macmillan in November 2022.
Prior to joining Carnegie, he was director of the RAND Corporation's Center for Russia and Eurasia and executive director of the RAND Business Leaders Forum. Mr. Weiss's career has spanned both the public and private sectors. He previously served as director for Russian, Ukrainian, and Eurasian Affairs on the National Security Council staff, as a member of the State Department's Policy Planning Staff, and as a policy assistant in the Office of the Under Secretary of Defense for Policy during the administrations of Presidents Bill Clinton and George H. W. Bush.
---
Previously in the In Focus series:
---
THANKS TO OUR PARTNERS IN GLOBAL AFFAIRS AWARENESS AND EDUCATION OUTREACH


THE TENNESSEE WORLD AFFAIRS COUNCIL HAS BEEN A PROUD MEMBER OF THE WORLD AFFAIRS COUNCILS OF AMERICA SINCE 2007
THANKS TO OUR PROGRAM PARTNERS IN GLOBAL AFFAIRS AWARENESS AND EDUCATION OUTREACH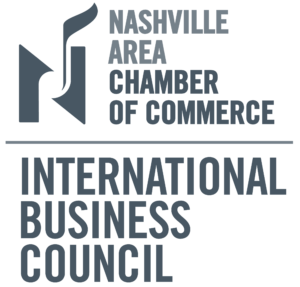 THANKS TO OUR PARTNERS IN GLOBAL AFFAIRS AWARENESS AND EDUCATION OUTREACH
THE MISSION of the nonprofit, nonpartisan Tennessee World Affairs Council is to promote international awareness, understanding and connections to enhance the region's global stature and to prepare Tennesseans to thrive in our increasingly complex and connected world.
THE VISION of  the Tennessee World Affairs Council is a well-informed community that thinks critically about the world and the impact of global events.