CLICK IMAGE FOR QUIZ
We invite you to become members of the TNWAC no matter where you live. We welcome our friends from around the country and around the world to be part of our work to inform and inspire our communities to know the world. Visit TNWAC.org/join and TNWAC.org/donate.
Last Week's Quiz Winners
Desikan Gandarva, Rocky River, OH
Tim Stewart, Nashville, TN
Adam Leff, Bethel, ME
Robert Kapanjie, Peoria, IL
Christine Laemmar, Brookfield, WI
Patricia Miletich, Ventura, CA
Erik Hunt, Indianapolis, IN
Barry Kolar, Nashville, TN
Roger French, Washington, IL
Catherine Kelly, Nashville, TN
Mary Ellen Hamed, Louisville, KY
Basil G. Smith, Jacksonville, FL
Marcus Murphy, Sewanee, TN
Steve Freidberg, Boston, MA
Peter Sharadin, Reading, PA
Mike Nelson, Saco
Hannah Osborne, Chapel Hill, TN
Seth Osborne, Chapel Hill, TN
Hind Abi-Akar, Peoria, IL
Barbara Gubbin, Jacksonville, FL
Charles Bowers, Nashville, TN
Rich Buck, Peoria, IL
David Hillinck, Alexandria, VA
Heike Heinzelmännchen Kranz, Germany
Pete Griffin, Nashville, TN
Jim Shepherd, Nashville, TN
Peter Barclay, Peoria, IL
Michelle Eaton, Peoria, IL
Angela Weck, Peoria, IL
John Gaffney, San Francisco, CA
Charles Hefter, Ponte Vera Beach, FL
Herb Marsh, Lincoln, NE
Barbara Cleland, Weston, CA
Leanne Drullette, Canada
Roanna Wiser, NY
Caroline Boland, Kanata, Ontario
Are you on the list of last week winners? If you become a member of TNWAC you could be the end of the month prize winner.
MONTHLY QUIZ PRIZES ARE AWARDED TO DUES PAYING MEMBERS OF THE TNWAC WHO ARE MONG THE WEEKLY WINNERS FOR THAT MONTH.
NOVEMBER QUIZ PRIZE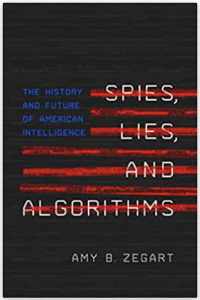 Spying has never been more ubiquitous―or less understood. The world is drowning in spy movies, TV shows, and novels, but universities offer more courses on rock and roll than on the CIA and there are more congressional experts on powdered milk than espionage. This crisis in intelligence education is distorting public opinion, fueling conspiracy theories, and hurting intelligence policy. In Spies, Lies, and Algorithms, Amy Zegart separates fact from fiction as she offers an engaging and enlightening account of the past, present, and future of American espionage as it faces a revolution driven by digital technology.
Drawing on decades of research and hundreds of interviews with intelligence officials, Zegart provides a history of U.S. espionage, from George Washington's Revolutionary War spies to today's spy satellites; examines how fictional spies are influencing real officials; gives an overview of intelligence basics and life inside America's intelligence agencies; explains the deadly cognitive biases that can mislead analysts; and explores the vexed issues of traitors, covert action, and congressional oversight. Most of all, Zegart describes how technology is empowering new enemies and opportunities, and creating powerful new players, such as private citizens who are successfully tracking nuclear threats using little more than Google Earth. And she shows why cyberspace is, in many ways, the ultimate cloak-and-dagger battleground, where nefarious actors employ deception, subterfuge, and advanced technology for theft, espionage, and information warfare.
A fascinating and revealing account of espionage for the digital age, Spies, Lies, and Algorithms is essential reading for anyone who wants to understand the reality of spying today.
---
LAST WEEK'S QUESTIONS AND ANSWERS
What in the World? Quiz – Week of November 21-27, 2022
Correction: Bali is a province, not a city. Thanks MM.
1. President Biden said, "We were very blunt with one another," in characterizing his meeting with China's President Xi Jinping on the sidelines of the G-20 summit in THIS province.
A. Rome, Italy
B. Beijing, China
C. Manchester, UK
D. Bali, Indonesia
Correct Response: D. Bali, Indonesia
https://www.npr.org/2022/11/14/1136459450/biden-xi-meeting
2. The CIA Director met with his Russian counterpart in Ankara to convey "a message on the consequences of the use of nuclear weapons by Russia, and the risks of escalation to strategic stability." The Director of the Central Intelligence Agency is THIS former top level American diplomat.
A. Avril Haines
B. Gina Haspel
C. William Burns
D. Pete Buttigieg
Correct Response: C. William Burns
https://www.cnn.com/2022/11/14/politics/cia-director-bill-burns-russian-counterpart/index.html
3. It took over 30 years of struggle for THIS consideration to be approved by the global community fighting climate change. The COP 27 UN Summit in Egypt incorporated it in their final report but did not address drastic global warming reductions.
A. A total ban on new construction of coal-fired power plants by the year 2025
B. A global commitment to conversion of commercial motor vehicle to EV models by 2030
C. Sanctions by international investment institutions for nations not meeting their Paris Accord carbon reduction goals
D. Wealthy nations provide for "loss and damage" by climate change to poorer nations
Correct Response: D. Wealthy nations provide for "loss and damge" by climate change to poorer nations
https://www.bbc.com/news/live/science-environment-63656412
4. Swedish investigators concluded the explosions that damaged the Nord Stream pipelines in September were "gross sabotage." The Nord Stream pipelines carry gas from Vyborg, Russia to Lubmin near Greifswald, Germany across THIS body of water.
A. Barents Sea
B. Black Sea
C. Baltic Sea
D. Gulf of Bothnia
Correct Response: C. Baltic Sea
https://www.reuters.com/world/europe/traces-explosives-found-nord-stream-pipelines-sweden-says-2022-11-18/
5. Saudi Crosn Prince Mohammed bin Salman, who was said to be responsible by the CIA for the murder of THIS Washington Post journalist, is immune from prosecution according to international law as "sitting head of government." That was the legal opinion of the U.S. Justice Department, which said it, "reiterates its unequivocal condemnation of the heinous murder."
A. Salman Rushdie
B. Jamal Khashoggi
C. Khalid Agha
D. Hussein Abu Ali
Correct Response: B. Jamal Khashoggi
https://www.washingtonpost.com/national-security/2022/11/18/saudi-crown-prince-immunity-khashoggi-murder/
6. A court in the Netherlands convicted, in absentia, two Russians and one Ukrainian separatist, and charged Moscow responsible, in THIS 2014 international crime.
A. Sabotage at the Zaporizhzhya nuclear power plant in Urkaine
B. Assassination of the Provincial President of Luhansk in eastern Urkaine
C. Targeting Ukrainian soldiers fighting against Donbas separatists
D. Shoot down of a Malaysian Air Lines jet enroute from Amsterdam to Kuala Lumpur
Correct Response: D. Shoot down of a Malaysian Air Lines jet enroute from Amsterdam to Kuala Lumpur
https://www.nytimes.com/2022/11/17/world/europe/flight-mh17-russia-dutch-court.html
7. The FIFA World Cup has opened in Qatar, the first Middle East venue for the tournament. The games are being played in THIS capital city and stadiums around the country.
A. Doha
B. Manama
C. Muscat
D. Dubai
Correct Response: A. Doha
https://www.usatoday.com/story/sports/soccer/worldcup/2022/11/20/world-cup-begins-live-updates-qatar-ecuador-open-tournament/10670665002/
8. A missile struck a village in THIS NATO nation initially causing high anxiety among Western leaders who were concerned it was a Russian attack. Investigators concluded it was a Ukrainian air defense missile that had been fired to defend against Russian missiles.
A. Latvia
B. Bulgaria
C. Poland
D. Belarus
Correct Response: C. Poland
https://www.cnn.com/2022/11/16/europe/poland-missile-russia-ukraine-investigation-wednesday-intl-hnk
9. The FBI is reported to be opening an investigation into the shooting death of noted journalist and U.S. citizen Shireen Abu Aqla. The Defense Minister of THIS nation, whose troops fired the fatal shot according to a UN investigation, said his country would not cooperate with the American investigation.
A. Iraq
B. Syria
C. Lebanon
D. Israel
Correct Response: D. Israel
https://www.bbc.com/news/world-middle-east-63631629
10. Britain and France revised a deal to slow migrant flows across THIS body of water with the UK paying Paris an additional £8m ($9.5m), a total of £63m a year for surveillance and law enforcement. More than 40,000 migrants have crossed in small boats so far this year according to the BBC.
A. Irish Sea
B. Bay of Biscay
C. English Channel
D. North Sea
Correct Response: C. English Channel
https://www.bbc.com/news/uk-politics-63615653
Copyright: 2022 Tennessee World Affairs Council
---
THANKS TO OUR PARTNERS IN GLOBAL AFFAIRS AWARENESS AND EDUCATION OUTREACH

A PROUD MEMBER OF THE WORLD AFFAIRS COUNCILS OF AMERICA SINCE 2007
THANKS TO OUR PARTNERS IN GLOBAL AFFAIRS AWARENESS AND EDUCATION OUTREACH
THANKS TO OUR PARTNERS IN GLOBAL AFFAIRS AWARENESS AND EDUCATION OUTREACH

THANKS TO OUR PARTNERS IN GLOBAL AFFAIRS AWARENESS AND EDUCATION OUTREACH
THE MISSION of the nonprofit, nonpartisan Tennessee World Affairs Council is to promote international awareness, understanding and connections to enhance the region's global stature and to prepare Tennesseans to thrive in our increasingly complex and connected world.
THE VISION of  the Tennessee World Affairs Council is a well-informed community that thinks critically about the world and the impact of global events.