A global affairs awareness service provided by the
Tennessee World Affairs Council
CLICK IMAGE FOR QUIZ
Thanks to quiz master Patrick Ryan for this week's quiz.
---
LAST WEEK'S QUIZ WINNERS

Peter Sharadin, Blandon, PA
David Hillinck, Huntsville, AL
Joseph Mendenhall, Bedford, TX
Catherine Kelly, Nashville, TN
Patricia Paiva, Nashville, TN
Patricia Miletich, Nashville, TN
Mona Ali, Abu Dhabi, UAE
Tim Stewart, Nashville, TN
Basil G Smith, Jacksonville, FL
WELL DONE!
Hey! Dozens of quiz takers are on our weekly winners list. You will be eligible for our end of month quiz prize if you become a TNWAC member. Join today to be in the running for the monthly quiz prize.

The World Affairs Council needs your support now more than ever. With a suggested donation of $100, you can help the Council continue to offer free and public programming to discuss critical global issues affecting Americans' security and prosperity.
You can give in one of several ways:
Pay with your credit card via the donation button below.

Mail a check to the TNWAC Office (Fidelity 304A, Belmont University, 1900 Belmont Blvd., Nashville, TN 37212)

Planned giving through a bequest. Consult the attorney who assisted with your estate planning.

Request a distribution from your Donor Advised Fund

Check with your employer to see if they will match your gift!
Please give to support global affairs awareness programs in the community and in your schools. 
---
Be a member to be eligible for the quiz prize.
June 2021 – Quiz Prize Winner
Angela Weck
(An out of state member of TNWAC. Thanks!)
Undaunted: My Fight Against America's Enemies, At Home and Abroad
John O. Brennan, Former Director of the CIA
---
Be a member to be eligible for the quiz prize.
July 2021 – Quiz Prize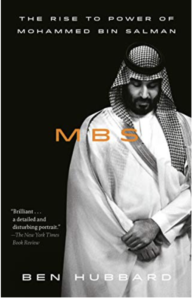 MBS: The Rise to Power of Mohammed bin Salman
Ben Hubbard
Ben Hubbard has spent more than a dozen years in the Middle East, reporting from Egypt, Syria, Iraq, Lebanon, Yemen, Saudi Arabia and elsewhere. He is the currently the Beirut bureau chief for The New York Times.
Finalist for the PEN/Jacqueline Bograd Weld Award • NAMED ONE OF THE BEST BOOKS OF THE YEAR BY Financial Times • Foreign Affairs • Kirkus Reviews

MBS is the untold story of how a mysterious young prince emerged from Saudi Arabia's sprawling royal family to overhaul the economy and society of the richest country in the Middle East—and gather as much power as possible into his own hands. Since his father, King Salman, ascended to the throne in 2015, Mohammed bin Salman has leveraged his influence to restructure the kingdom's economy, loosen its strict Islamic social codes, and confront its enemies around the region, especially Iran. That vision won him fans at home and on Wall Street, in Silicon Valley, in Hollywood, and at the White House, where President Trump embraced the prince as a key player in his own vision for the Middle East. But over time, the sheen of the visionary young reformer has become tarnished, leaving many struggling to determine whether MBS is in fact a rising dictator whose inexperience and rash decisions are destabilizing the world's most volatile region.
 
Based on years of reporting and hundreds of interviews, MBS reveals the machinations behind the kingdom's catastrophic military intervention in Yemen, the bizarre detention of princes and businessmen in the Riyadh Ritz-Carlton, and the shifting Saudi relationships with Israel and the United States. And finally, it sheds new light on the greatest scandal of the young autocrat's rise: the brutal killing of journalist Jamal Khashoggi by Saudi agents in Istanbul, a crime that shook Saudi Arabia's relationship with Washington and left the world wondering whether MBS could get away with murder.
 
MBS is a riveting, eye-opening account of how the young prince has wielded vast powers to reshape his kingdom and the world around him.
---
LAST WEEK'S QUESTIONS AND ANSWERS
What in the World? Quiz – Week of July 5-11, 2021
1. Secretary of State Blinken said THIS nearly completed Russian-German project was a "bad idea," that "it will potentially be a tool of Russian economic coercion and strategic coercion, a tool that can be used not only against Ukraine but indeed Europe as a whole to the extent it increases dependence on Russian gas."
A. Nord Stream 2
B. Russia-Belarus-Poland-Germany (RBPG) LNG Project
C. Trans-Caucasus Gas Route
D. Kaliningrad LNG Terminal
Correct response:
Source: https://www.spiegel.de/international/world/interview-with-u-s-secretary-of-state-antony-blinken-on-nord-stream-2-russia-and-china-a-1ed9013c-b406-4741-84de-9f9a07704da7?sara_ecid=nl_upd_1jtzCCtmxpVo9GAZr2b4X8GquyeAc9&nlid=bfjpqhxz
2. The Bank of England introduced a 50-pound banknote into circulation that features THIS legendary World War II Bletchley Park codebreaker, mathematician and father of theoretical computer science and artificial intelligence. He was prosecuted for homosexual acts in 1952 for which the British Government later apologized for his appalling treatment.
A. Dilly Knox
B. Alan Turing
C. Fran Pearlmutter
D. Bill Tutte
Correct Response: B. Alan Turing
Source: https://www.reuters.com/world/uk/new-british-50-pound-note-with-ww2-codebreaker-turing-enters-circulation-2021-06-22/?taid=60d288bf7dda3e0001b6b052&utm_campaign=trueAnthem:+Trending+Content&utm_medium=trueAnthem&utm_source=twitter
(#WACquiz)
3. The Russian Defense Ministry said one of its warships fired warning shots at a British destroyer to divert the ship from its course toward the Crimean Peninsula, which the Russian Federation claims to control. The British, however, said the ship was not fired upon and was not in Russian waters, and they do not recognize Moscow's claim to Crimea. WHICH country does the UK recognize as having control over Crimea?
A. Ukraine
B. Turkey
C. Cyprus
D. Italy
Correct Response: A. Ukraine
Source: https://apnews.com/article/russia-middle-east-black-sea-europe-government-and-politics-595debd7128eb2ae4ec68e240d1e712f
4. Turkish President Erdogan inaugurated a $15 billion project dubbed, "Kanal Istanbul," a 28-mile waterway designed to relieve pressure on the shipping route through THIS strategic chokepoint connecting the Black Sea to the Mediterranean Sea.
A. Corinth Canal
B. Bosporus Strait
C. Malacca Strait
D. Kiel Canal
Correct Response: B. Bosporus Strait
Source: https://www.reuters.com/world/middle-east/kanal-istanbul-project-kicks-off-with-bridge-construction-2021-06-26/
5. Colombian President Iván Duque was aboard a helicopter with some of the country's top ministers when the aircraft came under fire near THIS border with its conflictive neighbor.
A. Venezuela
B. Bolivia
C. Paraguay
D. Nicaragua
Correct Response: A. Venezuela
Source: https://www.nytimes.com/2021/06/25/world/americas/colombia-ivan-duque-helicopter-attack.html
(#WACquiz)
6. Three workers with Medecins Sans Frontieres, Doctors Without Borders, were found slain in THIS civil war torn region in the Horn of Africa. UN Secretary General Guterres said, "This is totally unacceptable and an appalling violation of International Humanitarian Law. The perpetrators must be found and severely punished."
A. Somalia
B. Tigray
C. Darfur
D. South Kordofan
Correct Response: B. Tigray
Source : https://www.voanews.com/africa/three-aid-workers-murdered-ethiopias-tigray
7. Palestinian opposition figure Nizar Binat was arrested and died after being tortured and beaten in the custody of THIS government entity in the occupied West Bank city of Hebron.
A. Israeli Defense Forces
B. Palestinian Authority
C. Mossad
D. Hamas
Correct Response: B. Palestinian Authority
Source: https://www.bbc.com/news/world-middle-east-57593740
(#WACquiz)
8. The Biden Administration is considering banning polysilicon, a component for solar panels, due to human rights concerns over the product's origins in China's Xinjiang province. The Chinese government has been accused by Washington of carrying out a genocide against THIS group of people in Xinjiang province.
A. Mongols
B. Tibetan Buddhists
C. Han Chinese
D. Uyghur Muslims
Correct Response: D. Uyghur Muslims
Source: https://www.politico.com/news/2021/06/21/biden-solar-ban-china-forced-labor-495330
(WACA Weekly World News Update)
9. THIS prime minister's Civil Contract party recently won in his country's snap parliamentary elections after months of popular discontent towards the PM's signing of a Moscow-brokered peace deal to end THIS country's war with Azerbaijan.
A. Irakli Garibashvili (Georgia)
B. Nikol Pashinyan (Armenia)
C. Gurbanguly Berdimuhamedow (Turkmenistan)
D. Vladimir Putin (Russia)
Correct Response: B. Nikol Pashinyan (Armenia)
Source: https://www.france24.com/en/tag/nikol-pashinyan/
(WACA Weekly World News Update)
10. The Taliban has recently captured Shir Khan Bandar in northern Afghanistan, which had been Afghanistan's main border crossing with THIS country.
A. Uzbekistan
B. Pakistan
C. Tajikistan
D. Iran
Correct Response: C. Tajikistan
Source: https://www.aljazeera.com/news/2021/6/22/taliban-capture-afghanistans-main-tajikistan-border-crossing
(WACA Weekly World News Update)
Copyright 2021, Tennessee World Affairs Council
---
A PROUD MEMBER OF THE WORLD AFFAIRS COUNCILS OF AMERICA SINCE 2007
THANKS TO OUR PARTNERS IN GLOBAL AFFAIRS AWARENESS AND EDUCATION OUTREACH
THANKS TO OUR PARTNERS IN GLOBAL AFFAIRS AWARENESS AND EDUCATION OUTREACH
THE MISSION of the nonprofit, nonpartisan Tennessee World Affairs Council is to promote international awareness, understanding and connections to enhance the region's global stature and to prepare Tennesseans to thrive in our increasingly complex and connected world.
THE VISION of  the Tennessee World Affairs Council is a well-informed community that thinks critically about the world and the impact of global events.