A global affairs awareness service provided by the
Tennessee World Affairs Council
CLICK IMAGE FOR QUIZ
Thanks to quiz master Patrick Ryan for this week's quiz.
---
LAST WEEK'S QUIZ WINNERS
Patricia Miletich, Nashville, TN
Andrew Colton, Nashville, TN
Peter Sharadin, Blandon, PA
Basil G. Smith, Jacksonville, FL
Mona Ali, Abu Dhabi, UAE
Steven Lawrence, Morrisown, TN
Patrick Baird, Nashville, TN
Brett Kmiec, Nashville, TN
Steve Freidberg, Boston, MA
Tim Stewart, Nashville, TN
Joseph Mendenhall, Bedford, TX
Pete Griffin, Nashville, TN
Barbara Gubbin, Jacksonville, FL
Steven Houle, China
Julia Lydon, Nashville, TN
Bernie Drake, Peoria, IL
Roger French, Washington, IL
Kathleen Kowal, Farmington, IL
Barry Kolar, Nashville, TN
Beth O'Brien, Washington, IL
Charles Bowers, Nashville, TN
WELL DONE!
Hey! Dozens of quiz takers are on our weekly winners list. You will be eligible for our end of month quiz prize if you become a TNWAC member. Join today to be in the running for the monthly quiz prize.

The World Affairs Council needs your support now more than ever. With a suggested donation of $100, you can help the Council continue to offer free and public programming to discuss critical global issues affecting Americans' security and prosperity.
You can give in one of several ways:
Pay with your credit card via the donation button below.

Mail a check to the TNWAC Office (Fidelity 304A, Belmont University, 1900 Belmont Blvd., Nashville, TN 37212)

Planned giving through a bequest. Consult the attorney who assisted with your estate planning.

Request a distribution from your Donor Advised Fund

Check with your employer to see if they will match your gift!
Please give to support global affairs awareness programs in the community and in your schools. 
---
Be a member to be eligible for the quiz prize.
July 2021 – Quiz Prize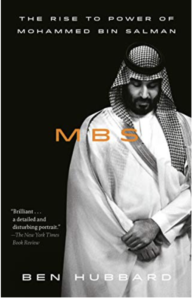 MBS: The Rise to Power of Mohammed bin Salman
Ben Hubbard
Ben Hubbard has spent more than a dozen years in the Middle East, reporting from Egypt, Syria, Iraq, Lebanon, Yemen, Saudi Arabia and elsewhere. He is the currently the Beirut bureau chief for The New York Times.
Finalist for the PEN/Jacqueline Bograd Weld Award • NAMED ONE OF THE BEST BOOKS OF THE YEAR BY Financial Times • Foreign Affairs • Kirkus Reviews

MBS is the untold story of how a mysterious young prince emerged from Saudi Arabia's sprawling royal family to overhaul the economy and society of the richest country in the Middle East—and gather as much power as possible into his own hands. Since his father, King Salman, ascended to the throne in 2015, Mohammed bin Salman has leveraged his influence to restructure the kingdom's economy, loosen its strict Islamic social codes, and confront its enemies around the region, especially Iran. That vision won him fans at home and on Wall Street, in Silicon Valley, in Hollywood, and at the White House, where President Trump embraced the prince as a key player in his own vision for the Middle East. But over time, the sheen of the visionary young reformer has become tarnished, leaving many struggling to determine whether MBS is in fact a rising dictator whose inexperience and rash decisions are destabilizing the world's most volatile region.
 
Based on years of reporting and hundreds of interviews, MBS reveals the machinations behind the kingdom's catastrophic military intervention in Yemen, the bizarre detention of princes and businessmen in the Riyadh Ritz-Carlton, and the shifting Saudi relationships with Israel and the United States. And finally, it sheds new light on the greatest scandal of the young autocrat's rise: the brutal killing of journalist Jamal Khashoggi by Saudi agents in Istanbul, a crime that shook Saudi Arabia's relationship with Washington and left the world wondering whether MBS could get away with murder.
 
MBS is a riveting, eye-opening account of how the young prince has wielded vast powers to reshape his kingdom and the world around him.
---
LAST WEEK'S QUESTIONS AND ANSWERS
What in the World? Quiz – Week of July 19-25, 2021
1. Chancellor Angela Merkel said, "The German language has no words, I think, for the devastation," referring to THIS catastrophe.
A. Wild fires that have erupted in the Black Forest.
B. Rampaging flood waters of the River Ahr that have killed about 200.
C. Villages evacuated and dozens injured by dangerous gas spilled by a derailed train.
D. Mudslides that buried most of the Zugspitze ski resort.
Correct Response: B. Rampaging flood waters of the River Ahr that have killed about 200.
https://www.nytimes.com/2021/07/18/world/europe/germany-floods-merkel.html
2. Only 60,000 people, all Saudi citizens, have been permitted to participate in THIS pilgrimage due to Covid-19 fears. Over two million Muslims normally participate in the once-in-a-lifetime travel to Islam's holiest sites.
A. Shahada
B. Zakat
C. Hajj
D. Sawm
Correct Response: C. Hajj
https://www.reuters.com/world/middle-east/masked-haj-pilgrims-mount-arafat-pray-covid-free-world-2021-07-19
3. Malware known as Pegasus sold by a surveillance firm in THIS country to authoritarian governments was used to target rights activists, journalists and attorneys.
A. Taiwan
B. Israel
C. South Africa
D. Belgium
Correct Response: B. Israel
https://www.bbc.com/news/technology-57881364
4. The U.S., NATO and other nations charged THIS country with a years-long hacking campaign that included cyber theft of data to benefit its companies. The cyber attacks also focused on Microsoft earlier this year.
A. China
B. North Korea
C. Russia
D. Armenia
Correct Response: A. China
https://www.reuters.com/technology/us-allies-accuse-china-global-cyber-hacking-campaign-2021-07-19/
5. Plans for a summit between two American allies in Asia set to take place during a visit to the Tokyo Olympics were dashed apparently over crude remarks from a Japanese diplomat aimed at THIS leader. The countries have a history of feuding over territorial claims and wartime crimes.
A. Indian Prime Minister Narendra Modi
B. Philippines President Rodrigo Duterte
C. Australian Prime Minsiter Scott Morrison
D. South Korean President Moon Jae-in
Correct Response: D. South Korean President Moon Jae-in
https://www.reuters.com/world/asia-pacific/japans-suga-skoreas-moon-hold-first-summit-meeting-friday-yomiuri-2021-07-18/
6. The United States launched "Operation Allies Refuge" in order to do THIS.
A. Evacuate Afghans who worked with the U.S. ahead of Taliban advances.
B. Evacuate Kurds from northeast Syria who fought with the U.S. against ISIS.
C. Evacuate Western nations' citizens from area of Mozambique beset by ISIS.
D. Evacuate Americans from Cuba as anti-regime violence looms.
Correct Response: A. Evacuate Afghans who worked with the U.S. ahead of Taliban advances.
https://www.vox.com/2021/7/18/22582355/operation-allies-refuge-afghanistan
7. Vigilante groups have emerged to battle unrest in THIS African nation that followed the jailing of former President Jacob Zuma.
A. Zimbabwe
B. Suriname
C. South Africa
D. Congo
Correct Response: C. South Africa
https://news.yahoo.com/vigilantism-grows-africa-citizens-tackle-170204489.html
8. Changing lifestyles during the Covid-19 pandemic are one factor that has led to a shortage of THIS product mostly produced by TSMC in Taiwan and Samsung in South Korea.
A. Laptops
B. Smart phones
C. Semiconductors
D. TVs
Correct Response: C. Semiconductors
https://www.bloomberg.com/news/articles/2021-02-17/the-world-is-short-of-computer-chips-here-s-why-quicktake
9. The United Arab Emirates, one of the first signatories of the Abraham Accord normalizing relations with Israel, opened an embassy in Israel a month after Israel opened an embassy in THIS capital of the UAE.
A. Riyadh
B. Manama
C. Abu Dhabi
D. Dubai
Correct Response: C. Abu Dhabi
10. Covid-19 "Freedom Day" in THIS nation was spoiled by reports of surging infections and news the Prime Minister was beginning a ten-day quarantine due to Covid exposure.
A. Brazil
B. Australia
C. United Kingdom
D. France
Correct Response: C. United Kingdom
https://www.reuters.com/world/uk/pm-johnson-pleads-caution-freedom-day-arrives-england-2021-07-18/
Copyright 2021, Tennessee World Affairs Council
---
A PROUD MEMBER OF THE WORLD AFFAIRS COUNCILS OF AMERICA SINCE 2007
THANKS TO OUR PARTNERS IN GLOBAL AFFAIRS AWARENESS AND EDUCATION OUTREACH
THANKS TO OUR PARTNERS IN GLOBAL AFFAIRS AWARENESS AND EDUCATION OUTREACH
THE MISSION of the nonprofit, nonpartisan Tennessee World Affairs Council is to promote international awareness, understanding and connections to enhance the region's global stature and to prepare Tennesseans to thrive in our increasingly complex and connected world.
THE VISION of  the Tennessee World Affairs Council is a well-informed community that thinks critically about the world and the impact of global events.