A global affairs awareness service provided by the
Tennessee World Affairs Council
CLICK IMAGE FOR QUIZ
Thanks to quiz master Patrick Ryan for this week's quiz.
---
LAST WEEK'S QUIZ WINNERS
AB Hodgkins, Casco Bay, ME
Ronan O'Malley, Houston, TX
Barbara Gubbin, Jacksonville, FL
David Hillinck, Huntsville, AL
Patricia Paiva, Nashville TN
Katie Grandell, Washington, DC
Patricia Miletich, Nashville, TN
Tim Stewart, Nashville, TN
Joseph Mendenhall, Bedford, TX
An Bro, London, UK
Connie Tomczyk, Peoria, IL
Charles Bowers, Nashville, TN
Rich Buck, Peoria, IL
Peter Barclay, Peoria, IL
Ron Zipfel, Peoria, IL
WELL DONE!
Hey! Dozens of quiz takers are on our weekly winners list. You will be eligible for our end of month quiz prize if you become a TNWAC member. Join today to be in the running for the monthly quiz prize.

The World Affairs Council needs your support now more than ever. With a suggested donation of $100, you can help the Council continue to offer free and public programming to discuss critical global issues affecting Americans' security and prosperity.
You can give in one of several ways:
Pay with your credit card via the donation button below.

Mail a check to the TNWAC Office (Fidelity 304A, Belmont University, 1900 Belmont Blvd., Nashville, TN 37212)

Planned giving through a bequest. Consult the attorney who assisted with your estate planning.

Request a distribution from your Donor Advised Fund

Check with your employer to see if they will match your gift!
Please give to support global affairs awareness programs in the community and in your schools. 
---
Be a member to be eligible for the quiz prize.
July 2021 – Quiz Prize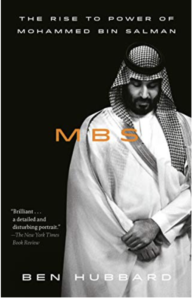 MBS: The Rise to Power of Mohammed bin Salman
Ben Hubbard
Ben Hubbard has spent more than a dozen years in the Middle East, reporting from Egypt, Syria, Iraq, Lebanon, Yemen, Saudi Arabia and elsewhere. He is the currently the Beirut bureau chief for The New York Times.
Finalist for the PEN/Jacqueline Bograd Weld Award • NAMED ONE OF THE BEST BOOKS OF THE YEAR BY Financial Times • Foreign Affairs • Kirkus Reviews

MBS is the untold story of how a mysterious young prince emerged from Saudi Arabia's sprawling royal family to overhaul the economy and society of the richest country in the Middle East—and gather as much power as possible into his own hands. Since his father, King Salman, ascended to the throne in 2015, Mohammed bin Salman has leveraged his influence to restructure the kingdom's economy, loosen its strict Islamic social codes, and confront its enemies around the region, especially Iran. That vision won him fans at home and on Wall Street, in Silicon Valley, in Hollywood, and at the White House, where President Trump embraced the prince as a key player in his own vision for the Middle East. But over time, the sheen of the visionary young reformer has become tarnished, leaving many struggling to determine whether MBS is in fact a rising dictator whose inexperience and rash decisions are destabilizing the world's most volatile region.
 
Based on years of reporting and hundreds of interviews, MBS reveals the machinations behind the kingdom's catastrophic military intervention in Yemen, the bizarre detention of princes and businessmen in the Riyadh Ritz-Carlton, and the shifting Saudi relationships with Israel and the United States. And finally, it sheds new light on the greatest scandal of the young autocrat's rise: the brutal killing of journalist Jamal Khashoggi by Saudi agents in Istanbul, a crime that shook Saudi Arabia's relationship with Washington and left the world wondering whether MBS could get away with murder.
 
MBS is a riveting, eye-opening account of how the young prince has wielded vast powers to reshape his kingdom and the world around him.
---
LAST WEEK'S QUESTIONS AND ANSWERS
What in the World? Quiz – Week of July 12-18, 2021
1. The President of Haiti was assassinated apparently by a group of highly trained foreign mercenaries. The killing of THIS leader came amidst a surge of political unrest in the poverty-stricken nation that lies about 700 miles from Florida's shores.
A. Rodrigo Navarro
B. Jovenel Moises
C. Jean-Bertrand Aristide
D. Rene Preval
Correct Response: B. Haiti
Source: https://www.reuters.com/world/americas/haitian-president-shot-dead-home-overnight-pm-2021-07-07/
(WACA Weekly World News Update)
2. Protestors shouting "Cuba Libre" took to the streets across regions of the country to call for THIS President to step down.
A. Miguel Diaz-Canel
B. Raul Castro
C. Fulgencio Batista
D. Fidel Ortega
Correct Response: A. Miguel Diaz-Canel
https://www.reuters.com/world/americas/street-protests-break-out-cuba-2021-07-11/
3. U.S. personnel at the Ain al-Asad Air Base in THIS country were targeted by rocket and drone attacks recently. The attacks are presumed to be the latest in a string of Iranian-backed militia attacks, one of which was carried out against U.S. forces in Al-Omar oil field in eastern Syria in late June.
A. Azerbaijan
B. Iraq
C. Turkey
D. Jordan
Correct Response: B. Iraq
Source: https://www.reuters.com/world/middle-east/rocket-attack-iraqi-base-housing-us-forces-iraqi-military-sources-2021-07-07/
4. President Joe Biden is pushing Russian President Vladimir Putin to crack down on THIS concern that President Biden claims will negatively affect the global economy if no actions are taken?
A. GRU cooperation with the Taliban
B. Iran's nuclear program
C. Russian ransomware groups
D. Russia's blocking of UN humanitarian aid negotiations for Syria
Correct Response: C. Russian ransomware groups
Source : https://www.aljazeera.com/economy/2021/7/9/biden-urges-putin-to-act-against-ransomware-attacks-in-call
5. Rwanda is preparing to send 1,000 troops and the EU will set up a military training mission for THIS nation to combat the rise of Islamic State-affiliated militants linked to terrorist incidents since 2017. The Southern African Development Community committed to send reinforcements to fight the insurgency.
A. Angola
B. Botswana
C. Algeria
D. Mozambique
Correct Response: D. Mozambique
Source: https://www.gulf-times.com/story/696138/Rwanda-sends-1-000-troops-to-insurgency-hit-Mozamb
(#WACquiz)
6. England saw THIS national team take the European Championship of football, Euro 2020, after a second half tying goal sent the match into over time. The title was determined in a penalty shootout.
A. Belgium
B. Germany
C. Italy
D. San Marino
Correct Response : C. Italy
https://www.reuters.com/lifestyle/sports/italy-v-england-euro-final-goes-extra-time-2021-07-11/
7. A 6.1 magnitude underwater earthquake recently struck the coast of the Sulawesi Island of THIS archipelagic country. The country is located in the "Ring of Fire," which consists of a series of fault lines, making it extremely vulnerable to earthquakes.
A. Indonesia
B. Chile
C. New Zealand
D. Guatemala
Correct Response: A. Indonesia
Source : https://www.gmanetwork.com/news/news/world/794836/magnitude-6-1-quake-strikes-eastern-indonesia-usgs/story/?just_in
(#WACquiz)
8. A Canadian Truth and Reconciliation Commission declared the church-run residential schools that operated in the country from 1883-1996 as a form of "cultural genocide" after evidence of serial abuse of indigenous children was discovered. WHAT was discovered in British Columbia and Saskatchewan by the Commission?
A. Pictures of indigenous students enduring physical abuse
B. Evidence of arson at the sites of several indigenous families' former homes
C. A series of letters and emails threatening the lives of indigenous students
D. Mass graves at the sites of three of the former schools
Correct Response: D. Mass graves at the sites of three of the former schools
Source : https://www.nytimes.com/2021/07/05/world/canada/Indigenous-residential-schools-photos.html
(WACA Weekly World News Update)
9. A factory fire outside of Dhaka, the capital of THIS country, has resulted in the deaths of at least 52 workers, many of whom died as a result of being trapped inside. The country has a history of similar industrial disasters due to lax regulations and poor factory working conditions.
A. Bangladesh
B. Turkey
C. India
D. China
Correct Response: A. Bangladesh
Source: https://apnews.com/article/business-fires-bangladesh-19a033b8302726a5ff018edbbd5b5a2b
10. Ethiopia has officially begun the next phase of filling the Grand Ethiopian Renaissance Dam (GERD) which lies on the Nile River's main tributary. This controversial move seems to be bringing decade-long tensions between Ethiopia and THESE two countries to a climax.
A. Tunisia and Egypt
B. Egypt and Sudan
C. Kenya and Sudan
D. Tunisia and Somalia
Correct Response: B. Egypt and Sudan
Source: https://www.aljazeera.com/news/2021/7/6/egypt-angry-ethiopia-resumes-filling-gerd
(#WACquiz)
Copyright 2021, Tennessee World Affairs Council
---
A PROUD MEMBER OF THE WORLD AFFAIRS COUNCILS OF AMERICA SINCE 2007
THANKS TO OUR PARTNERS IN GLOBAL AFFAIRS AWARENESS AND EDUCATION OUTREACH
THANKS TO OUR PARTNERS IN GLOBAL AFFAIRS AWARENESS AND EDUCATION OUTREACH
THE MISSION of the nonprofit, nonpartisan Tennessee World Affairs Council is to promote international awareness, understanding and connections to enhance the region's global stature and to prepare Tennesseans to thrive in our increasingly complex and connected world.
THE VISION of  the Tennessee World Affairs Council is a well-informed community that thinks critically about the world and the impact of global events.