Thank you for your support. TNWAC is a public service bringing you global affairs awareness and education!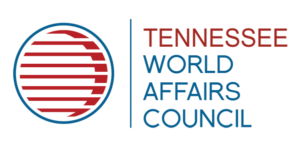 Tennessee World Affairs Council's Academic WorldQuest championship team cracked the Top Ten in competition with World Affairs Councils of America network teams in Washington, DC.
Students from the Gwinnett School of Math, Science and Technology (GSMST) represented TNWAC at the 20th Carlos and Malú Alvarez Academic WorldQuest National Competition, a global affairs awareness contest organized by the World Affairs Councils of America.
Ngan Tran, David Phan, Aevero Sanchez, and Abhi Kapagant placed 8th out of 42 teams from around the United States in the competition which tests knowledge of ten topics across a range of global affairs. Tara Finco, a GSMST teacher who coaches the team led the group in preparing for the TNWAC championship and on the trip to Washington, DC.
The GSMST team took the Tennessee title in a March 27th match at Belmont University in Nashville.
This year's victory was the third TNWAC championship for GSMST which is located in Lawrenceville, Georgia. "Tennessee's Council is the closest WAC that holds the Academic WorldQuest competition for GSMST," said Council President Patrick Ryan. He added, "If students are interested in learning more about world affairs we don't worry about their Zip Codes; anyone can play."
The Tennessee WorldQuest program is named in honor of Anne Smedinghoff, a U.S. Foreign Service Officer who was killed in the line of duty in Afghanistan. The competition is designed to encourage students to learn more about U.S. foreign policy, international challenges and America's place in the world as they prepare for practice rounds during the year and a Tennessee championship match in March each year. TNWAC's WorldQuest is part of a comprehensive program including weekly quizzes, practice matches and an end of school year Global Scholar Certificate.
The GSMST students 8th place finish out of 42 teams was testimony to their knowledge and preparation as the competitors are the best of their World Affairs Council. Here's the top ten finishers:
1. 87 – Keystone School (San Antonio)
2. 86 – Plano West Senior High School (Dallas/Fort Worth)
3. 83 – Palm Desert High School (Desert (CA))
4. 79 – El Dorado High School (Orange County)
5. 78 – Carmel High School (Indiana)
6. 77 – Eagle River High School (Alaska)
7. 76 – Ponte Vedra High School (Jacksonville)
8. 75 – Gwinnett School of Math, Science, and Technology (Tennessee)
8. 75 – Academic Magnet High School (Charleston)
9. 74 – Upper St. Clair High School (Pittsburgh)
10. 73 – Hialeah-Miami Lakes Senior High (Miami)
Students, teachers and parents who are interested in the 2022-2023 season of Academic WorldQuest can contact the Tennessee World Affairs Council. [pat@tnwac.org]
Your donation today will support our Academic WorldQuest high school global awareness program initiative.
THANKS TO OUR PARTNERS IN GLOBAL AFFAIRS AWARENESS AND EDUCATION OUTREACH


TNWAC IS A PROUD MEMBER OF THE NETWORK OF WORLD AFFAIRS COUNCILS OF AMERICA

THANKS TO OUR PARTNERS IN GLOBAL AFFAIRS AWARENESS
THE MISSION of the nonprofit, nonpartisan Tennessee World Affairs Council is to promote international awareness, understanding and connections to enhance the region's global stature and to prepare Tennesseans to thrive in our increasingly complex and connected world.
THE VISION of  the Tennessee World Affairs Council is a well-informed community that thinks critically about the world and the impact of global events.