Sponsor This Program 
The Tennessee World Affairs Council
and Belmont University Center for Global Citizenship
in association with the University of Tennessee Center for Global Engagement and the Nashville Area Chamber of Commerce
LUNCHEON
In Person
A Conversation With Former NSA Director & Commander of U.S. Cyber Command
Admiral Michael Rogers
Former Director National Security Agency and Commander U.S. Cyber Command
Tuesday, November 8, 2022
11:30 a.m. CT Registration/Networking
12:00 p.m. Lunch, Remarks, Q and A
Venue: Massey Board Room, Massey Business Center, Belmont University, Nashville
What has the United States learned about cyber security threats and how is it prepared to respond? How do we ensure the nation's competitive ability in the 21st century? These are among the topics the former Director of the National Security Agency and Commander of U.S. Cyber Command, will address at a November 8, 2022 luncheon at Belmont University.
Admiral Michael Rogers, a retired Navy four-star, served over three decades as a Cryptologic Warfare Officer, leading to appointment as America's top cryptology and cyber DoD official. Rogers led that effort for four years directing the Defense Department's cyber security mission.
The Tennessee World Affairs Council and Belmont University's Center for Global Citizenship invite you to join Admiral Rogers at a luncheon at 11:30 a.m. CT on November 8th. This is your opportunity for first-hand insights and perspectives on the cyber threats facing the U.S. government, businesses and individuals from the expanding universe of virtual threats.
The luncheon will be followed by a panel discussion with Admiral Rogers moderated by Congressman Jim Cooper featuring government, industry and academia experts. The luncheon is set for the Massey Board Room in Belmont's Massey Business Center. Both programs are open to the public and information and registration is on the Tennessee World Affairs Council Web site (TNWAC.org). Contact TNWAC President Patrick Ryan for information on corporate sponsorship of Admiral Rogers' visit and programs. (pat@TNWAC.org)
---
Admiral Michael Rogers retired in June 2018 after nearly 37 years of service, culminating his career with more than four years leading U.S. Cyber Command and the National Security Agency (NSA). Starting his career as a surface warfare officer and ultimately transitioning to duty as a cryptology warfare officer, he served around the globe afloat and ashore, focusing on maritime operations, intelligence, and cyber.
Admiral Rogers is an NROTC graduate of Auburn University, holds a master of science in national security, is a distinguished graduate of the National War College, and is a graduate of highest distinction from the Naval War College. He is a Seminar XXI Fellow and a Harvard Senior Executive in National Security alum. He has commanded at the unit, numbered fleet, and service component level and at the sub-unified level and ran the largest intelligence organization in the U.S. government at NSA, as well as its newest unified command in U.S. Cyber Command.
---
You too can support these important public service conversations. Give at: TNWAC.org/donate
---
SPONSOR THIS PROGRAM
We invite businesses, organizations and individuals to sponsor this series of conversations with distinguished speakers on global affairs.  It is through your support that we are able to produce quality global affairs programs.
For information about sponsoring other programs and series of events contact Patrick Ryan, TNWAC President @ 931-261-2353, pat@tnwac.org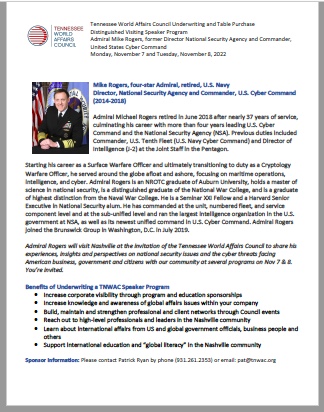 Link here for more information about sponsoring.
---
THANKS TO OUR PARTNERS IN GLOBAL AFFAIRS AWARENESS AND EDUCATION OUTREACH


THE TENNESSEE WORLD AFFAIRS COUNCIL HAS BEEN A PROUD MEMBER OF THE WORLD AFFAIRS COUNCILS OF AMERICA SINCE 2007
THANKS TO OUR PROGRAM PARTNERS IN GLOBAL AFFAIRS AWARENESS AND EDUCATION OUTREACH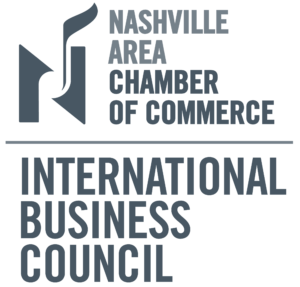 THANKS TO OUR PARTNERS IN GLOBAL AFFAIRS AWARENESS AND EDUCATION OUTREACH
THE MISSION of the nonprofit, nonpartisan Tennessee World Affairs Council is to promote international awareness, understanding and connections to enhance the region's global stature and to prepare Tennesseans to thrive in our increasingly complex and connected world.
THE VISION of  the Tennessee World Affairs Council is a well-informed community that thinks critically about the world and the impact of global events.