Global Energy and "Crude Oil, Crude Money"
Thomas W. Lippman
The global energy market is in turmoil. Inventories are high and demand is low. We recently saw a negative price call for crude oil and fully laden tankers are sitting at anchorages waiting for customers. The International Energy Agency said oil demand was "down nearly 5% in the first quarter, mostly by curtailment in mobility and aviation which account for nearly 60% of global oil demand. By the end of March, global road transport activity was almost 50% below the 2019 average and aviation 60% below. The energy market fallout from the pandemic, and the crash in oil prices, has threatened the economic stability of numerous countries, especially those in the Organization of Petroleum Exporting Countries (OPEC). Some have sought  to ensure market share through price slashing over production, worsening the inventory glut.
This Global Dialogue episode with veteran journalist, author and scholar Thomas Lippman will aim to sort through the global energy crisis and to discuss his new book, "Crude Oil, Crude Money." It, "tells the untold story of how Exxon, Mobil, Chevron, and Texaco teamed up with the CIA and Department of State to thwart the plans of Greek shipping magnate Aristotle Onassis, who almost managed to reshape the Middle East."
TNWAC members who attend this Global Dialogue with Thomas Lippman will be eligible for our "door prize" of a copy of "Crude Oil, Crude Money" by Thomas Lippman.  You can join here: www.TNWAC.org/join
We would again like to thank Mr. Lippman for his support of the Tennessee World Affairs Council through his visits to talk at our town halls and with high school and university students and social groups.
About Thomas Lippman
Thomas W. Lippman is an author and journalist who has written about Middle Eastern affairs and American foreign policy for four decades, specializing in Saudi Arabian affairs, U.S.- Saudi relations, and relations between the West and Islam. He is a former Middle East bureau chief of the Washington Post, and also served as that newspaper's oil and energy reporter. Throughout the 1990s, he covered foreign policy and national security for the Post, traveling frequently to Saudi Arabia and other Middle East countries. He has been a frequent visitor to Saudi Arabia for many years.
Before his work in the Middle East, he was the Washington Post correspondent in Vietnam and Cambodia.
Lippman is the author of numerous magazine articles, book reviews and op-ed columns about Mideast affairs, and of eight books about the Middle East and Islam. His latest book, Crude Oil, Crude Money: Aristotle Onassis, Saudi Arabia, and the CIA," was published in 2019.
Lippman has appeared on all major US television networks, NPR, the BBC, and many television stations overseas. He has lectured on Gulf regional affairs at the U.S. Air Force Special Operations School, at the National Defense University, at the State Department's Foreign Service Institute, and at the Brookings Institution. He has also been also a consultant to film producers, the Central Intelligence Agency, the National Counterterrorism Center, and corporations that do business in the Gulf.
Lippman is an adjunct scholar at the Middle East Institute in Washington and was an Edward R. Murrow Fellow at the Council on Foreign Relations.
About the Moderator
LCDR Patrick Ryan, USN (Ret) is a native of New York City. He enlisted in the Navy at age 17 and volunteered for submarine duty. He served aboard nuclear fast attack and ballistic missile boats during the Cold War, rising to the rank of Chief Petty Officer. In 1982 he was commissioned and served aboard a cruiser in the Western Pacific before becoming a Navy Intelligence Officer. Ryan served aboard the carrier Constellation in the Pacific, the Joint Staff Intelligence Directorate in the Pentagon, the Center for Naval Analysis, and the Intelligence Directorate of U.S. Central Command. Ryan retired from the Navy in 1998 and worked as a consultant on Intelligence Community projects and as the VP/COO of the National Council on U.S.-Arab Relations. Ryan ran a newsletter publishing business on international affairs from 1999-2016. He founded the Tennessee World Affairs Council in 2007.
About "Crude Oil, Crude Money"
"From one of the keenest observers of Middle East history comes a fascinating tale of Cold War politics, international finance, big oil, CIA intrigue, shipping magnates, and romance. At the heart of the story is Lippman's erudite account of how Saudi Arabia and the Persian Gulf emerged as central to America's calculus of Cold War competition against the Soviet Union and other potential rivals, in turn shaping the strategic importance of Middle Eastern oil and setting off power struggles within the House of Saud, the Suez Canal Crisis, and much more. This book is essential reading for anyone interested in in-depth histories of the Cold War, oil, and the Persian Gulf." (Mehran Kamrava, Director, Center for International and Regional Studies,Georgetown University, Qatar, and Author of Troubled Waters: Insecurity in the Persian Gulf )
"Through meticulous research in newly declassified documents, Tom Lippman has once again written a compelling account of skulduggery in the dark corners of the Middle East. He takes us into the new, overmatched Saudi king's royal palace, where the king ignores existing concessions granted to the major oil companies (vital to U.S. energy security) and commits to a shady deal to turn control of much of the world's oil supply to tankers owned by Onassis. Bribery, royal court bungling, and CIA efforts to sabotage the Onassis deal without derailing the Saudi alliance all powerfully command the reader's attention. As with his earlier works, Lippman combines a crisp, detailed writing style with a zest for a plot that thickens with each chapter. It's a terrific work by a real expert." (Robert W. Jordan, Former U.S. Ambassador to Saudi Arabia and Author of Desert Diplomat: Inside Saudi Arabia Following 9/11)
PROGRAM PARTNERS
THANKS TO BELMONT UNIVERSITY'S CENTER FOR INTERNATIONAL BUSINESS
THANKS TO THE NASHVILLE AREA CHAMBER OF COMMERCE, INTERNATIONAL BUSINESS COUNCIL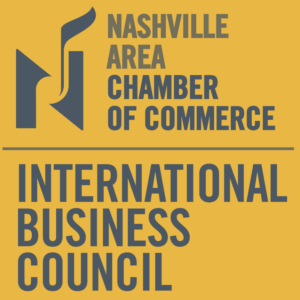 Mission
The mission of the nonprofit, nonpartisan Tennessee World Affairs Council is to promote international awareness, understanding and connections to enhance the region's global stature and to prepare Tennesseans to thrive in our increasingly complex and connected world.
Vision
A well-informed community that thinks critically about the world and the impact of global events.   
The Tennessee World Affairs Council is a 5o1c3 tax exempt organization. All gifts are tax deductible to the full extent of IRS regulations.
Be A Stakeholder In Promoting Global Literacy
Tennessee World Affairs Council
Fidelity Hall 304A, Belmont University
1900 Belmont Blvd., Nashville, TN 37212