>
Global Nashville with Karl Dean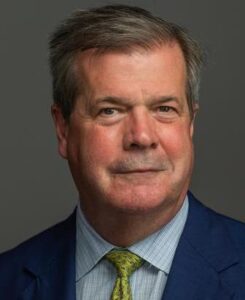 Karl Dean, former Nashville Mayor talks with community leaders about the things that make
Nashville a global city.
Join Mayor Dean For a Conversation With
Kate Burke
Chief Operating Officer, Alliance Bernstein
Tuesday, December 8, 2020
7:00 p.m. CT
Register below
Chief Operating Officer Kate Burke who oversaw the relocation of AB's New York office to Nashville will join former Nashville Mayor Karl Dean on Tuesday, December 8, 2020 at 7pm CT on our "Global Nashville with Karl Dean" Webinar to talk about: the choice of Nashville for its corporate expansion, the company's international operations, and its integration into the fabric of the community. You are invited to join the conversation.
You may have seen the AllianceBernstein (AB) sign go up on the tower rising at Fifth+Broadway. The new permanent downtown offices for AB will complete the investment of $11.4 million and creation of 200 new jobs in Nashville, as noted by "BusinessFacilities.com." The expansion of the global financial firm that has approximately $623 million in assets under management and offices in 25 countries is one of Tennessee's most consequential economic development wins in recent years, according to Governor Bill Lee. He said, "The creation of hundreds of quality jobs will provide tremendous benefits to the entire Middle Tennessee region."
The importance of the AB investment was echoed by TNECD Commissioner Bob Rolfe who said, "It's hard to overstate how significant AB's commitment to Nashville is for our state. Once fully operational, AB will have more than 1,250 employees here in Middle Tennessee, making it one of downtown Nashville's largest employers. We're incredibly honored that a company of this caliber has so quickly established deep roots in Tennessee and continues to create extremely well-paying and high-quality jobs in Nashville."
On Opening Business in Nashville:
"We focused around what was culturally important to us, which was our diverse population in New York. We wanted to move to a city and find a community in which (our employees) would feel comfortable."
"We consistently kept hearing, here in Nashville, just how much people recognized the positives and the challenges of what the city was going through, and there was a collective responsibility to solve it and that… was very appealing, because not only did that align well with our corporate values, but it also let us see that we can come here and be a good corporate citizen as well."
Kate Burke,  Vanderbilt Distinguished Speaker Series, October 16, 2019
"As AB continues to plant roots in Nashville and Middle Tennessee, we have been so grateful for the warm welcome our firm has received from this vibrant and growing region. Nashville's core values and talents are an excellent match for our firm, and we look forward to expanding our presence here. We are committed to being a member of Nashville's vital business community and contributing to and investing in the city's continued success."
AB President and CEO Seth Bernstein
"We have a global brand of music, creativity and a very vibrant community, a community that is open to any population from any part of the world. Nashville has been a place where people from all over the world have come to and stay here. Nashville has a great location, very stable state and local governments and a population that is warm, engaging and open and welcoming. We continue to promote those assets. We continue to let people know Nashville is open for business on an international basis and we see great success.
There are the Bridgestones, the Nissans, the AllianceBernsteins — all of these big businesses that are international in nature, they are invested here and we continue to encourage that. We find an awful lot that businesses that are looking to locate their business activity in Nashville and other places are looking for the compatibility of the community.
"I love to tell the story of AllianceBernsten, because typically businesses will want to know where is their workforce coming from when they get here. AllianceBernstein was a little different. The first question they asked us was, can you set up meetings with 22 community cultural organizations so that we can really understand what the culture of the community is."
Ralph Schulz, Nashville Area Chamber of Commerce CEO, "Global Nashville with Karl Dean" April 14, 2020
"AllianceBernstein L.P. (AB) will invest $11.4 million and create 200 additional jobs at its global headquarters in Nashville, TN. The expansion will bring the global asset management firm's planned investment in Nashville to more than $80 million. In May 2018, the company announced plans to relocate its headquarters from New York City to Nashville and bring 1,050 jobs to Middle Tennessee."
Business Facilities, January 14, 2020
Kate Burke is the Chief Operating Officer of AB, responsible for overseeing Legal, Compliance, Corporate Communications, Human Capital, Corporate and Information Security, Operations, and Technology. She was previously chief administrative officer, and, prior to that, head of Human Capital and chief talent officer. Burke has more than two decades of financial services and consulting industry experience. She joined Bernstein Research in 2004 in institutional sales, where she rose to senior vice president and managing director, overseeing institutional sales teams in the Midwest, New York and Canada. Prior to joining the firm, Burke was a manager at A.T. Kearney, where she led client cross-divisional organizational development programs. She holds a BA in economics from College of the Holy Cross and an MBA from Kellogg School of Management at Northwestern University. Location: Nashville
AB in Nashville
"AB is an asset-management and research firm with a unique combination of expertise, ingenious solutions and global reach. We attract the industry's best talent—our people have the relentless drive and ingenuity to spark innovative ideas. We're truly global. We've built an extensive and integrated global footprint over five decades, giving us the broadest possible perspective and we're now expanding to Nashville.
"AB is a leading global investment-management and research firm. We bring together a wide range of insights, expertise and innovations to advance the interests of our clients around the world."
---
"Global Nashville with Karl Dean" is a Webinar program produced by the Tennessee World Affairs Council as part of its global affairs awareness education mission. "GNKD" features conversations with community leaders from government, business, nonprofits, "new American" groups, academia and others, with a perspective on the issues and developments that connect to the idea of Nashville as a "global place." The Webinar is featured on every other Tuesday at 7pm and is archived on the YouTube.com/TNWAC channel and "Global Tennessee" Podcast family.
The Tennessee World Affairs Council is a nonpartisan, educational, nonprofit charity that seeks to bring the world to our community. TNWAC is an IRS 501c3 registered charity and its community and education outreach efforts are made possible by individual and corporate members, grants and gifts.