CLICK IMAGE FOR QUIZ
We invite you to become members of the TNWAC no matter where you live. We welcome our friends from around the country and around the world to be part of our work to inform and inspire our communities to know the world. Visit TNWAC.org/join and TNWAC.org/donate.
Last Week's Quiz Winners
Barbara Cleland, Weston, CT
Michelle Eaton, Peoria, IL
Sara Cardwell, Frankfort, KY
Rich Buck, Peoria, IL
Bruce Botelho, Juneau, AK
Frank Kelly, Washington, DC
Jim Shepherd, Nashville, TN
Marcus Murphy, Sewanee, TN
Desikan Gandarva, Rocky River
Tim Stewart, Nashville, TN
Erik Hunt, Indianapolis, IN
Martha Trammell, Nashville, TN
Shari Sellmeyer, Nashville, TN
Patricia Miletich, Ventura, CA
Russell Peterson, Brentwood, TN
Gordon Perlmutter, Ashburn, VA
Catherine Kelly, Nashville, TN
Barbara Stockwell, Savannah, GA
Keno Smith, Dallas, TX
Basil G. Smith, Jacksonville, FL
Nick Pegg, Baker, WV
Suzanne Perritt, Jacksonville, FL
Toni Blackwood, Kansas City, MO
Peter Sharadin, Reading, PA
Marie Butcher, Mount Gilead, OH
Hannah Osborne, Chapel Hill, TN
Seth Osborne, Chapel Hill, TN
Mike Nelson, Bangor, ME
Bella Zieroth, Virginia Beach, VA
Beth Young, Rochester, NY
Yezzie Dospil, Nashville, TN
Katharine Roof, Charleston, SC
Lee Clancy, Madrid, Spain
Leanne Drullette, Regina, SA
Adam Leff, Bethel, ME
Are you on the list of last week winners? If you become a member of TNWAC you could be the end of the month prize winner.
MONTHLY QUIZ PRIZES ARE AWARDED TO DUES PAYING MEMBERS OF THE TNWAC WHO ARE MONG THE WEEKLY WINNERS FOR THAT MONTH.
NOVEMBER QUIZ PRIZE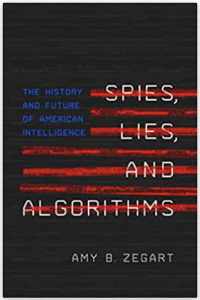 Spying has never been more ubiquitous―or less understood. The world is drowning in spy movies, TV shows, and novels, but universities offer more courses on rock and roll than on the CIA and there are more congressional experts on powdered milk than espionage. This crisis in intelligence education is distorting public opinion, fueling conspiracy theories, and hurting intelligence policy. In Spies, Lies, and Algorithms, Amy Zegart separates fact from fiction as she offers an engaging and enlightening account of the past, present, and future of American espionage as it faces a revolution driven by digital technology.
Drawing on decades of research and hundreds of interviews with intelligence officials, Zegart provides a history of U.S. espionage, from George Washington's Revolutionary War spies to today's spy satellites; examines how fictional spies are influencing real officials; gives an overview of intelligence basics and life inside America's intelligence agencies; explains the deadly cognitive biases that can mislead analysts; and explores the vexed issues of traitors, covert action, and congressional oversight. Most of all, Zegart describes how technology is empowering new enemies and opportunities, and creating powerful new players, such as private citizens who are successfully tracking nuclear threats using little more than Google Earth. And she shows why cyberspace is, in many ways, the ultimate cloak-and-dagger battleground, where nefarious actors employ deception, subterfuge, and advanced technology for theft, espionage, and information warfare.
A fascinating and revealing account of espionage for the digital age, Spies, Lies, and Algorithms is essential reading for anyone who wants to understand the reality of spying today.
---
LAST WEEK'S QUESTIONS AND ANSWERS
What in the World? Quiz – Week of November 14-20, 2022
1. Ukrainian forces moved into THIS strategic southeast city after Russian fighters retreated across the Dnieper River last week, leaving a potential humanitarian disaster and amid stories of war crimes committed by the occupiers.
A. Odessa
B. Kherson
C. Kharkiv
D. Kyiv
Correct Response: B. Kherson
https://news.yahoo.com/zelenskyy-russian-soldiers-abandoned-kherson-192800856.html
2. Prices in THIS industry crashed last week as FTX, one of the largest exchanges, filed for bankruptcy after failing in merger talks with Binance.
A. Computer chips
B. Wheat futures
C. Crypto
D. Hydrogen fuel cells
Correct Response: C. Crypto
https://finance.yahoo.com/news/funds-disappear-imploding-crypto-exchange-213514063.html
3. President Biden pledged American leadership in the climate change fight when he visited the United Nations COP27 meeting in THIS country.
A. Indonesia
B. Egypt
C. Saudi Arabia
D. Cambodia
Correct Response: B. Egypt
https://www.washingtonpost.com/climate-environment/2022/11/11/cop27-live-updates-biden-egypt/
4. China eased some of its pandemic measures, resulting in positive response from markets and investors, but the crushing lockdowns of THIS policy backed by President Xi Jinping remain in place.
A. The Great Lockdown
B. Wuhan Protocols
C. Contact Tracing
D. Zero-Covid
Correct Response: D. Zero-Covid
https://www.nytimes.com/2022/11/11/business/china-zero-covid-markets.html
5. President Vladimir Putin will not attend THIS gathering of world leaders in Bali, Indonesia. Some heads of state had threatened to skip the event if Putin was to appear even though Russia is a member.
A. G-8
B. ASEAN
C. APEC
D. G-20
Correct Response: D. G-20
https://www.bloomberg.com/news/articles/2022-11-12/eight-things-to-expect-from-g-20-bali-summit-with-xi-jinping-but-without-putin
6. Six people died and 81 were injured in an explosion in a busy section of Istanbul, in what THIS Turkish President said smelled "like terrorism."
A. Tayyip Erdogan
B. Ali Babacan
C. Faik Ahmet Barutçu
D. Deniz Baykal
Correct Response: A. Tayyip Erdogan
https://www.reuters.com/world/middle-east/central-istanbul-blast-leaves-multiple-wounded-media-video-2022-11-13/
7. As Qatar makes final preparations for this month's World Cup of football Sepp Blatter, the former president of THIS sporting federation said selecting the Persian Gulf nation was a mistake, that was influenced by French President Sarkozy.
A. CONCACAF
B. UEFA
C. FIFA
D. CAF
Correct Response: C. FIFA
https://www.npr.org/2022/11/08/1135102137/sepp-blatter-qatar-world-cup-mistake-fifa-sarkozy
8. Fresh from a successful Communist Party Congress where he solidified his grip on power with a landmark third term, THIS president of China is set for the first in-person meeting as leader with U.S. President Joe Biden. However, expectations were low for progress on the numerous global challenges they face.
A. Hu Jintao
B. Xi Jinping
C. Jiang Zemin
D. Guo Boxiong
Correct Response: B. Xi Jinping
https://www.cnn.com/2022/11/12/china/g20-xi-biden-meeting-walkup-intl-hnk
9. Rishi Sunak, the new prime minister of THIS country, will represent his nation at the Group of Twenty summit in Bali, where he will meet with Russian Foreign Minister Lavrov.
A. India
B. United Kingdom
C. Bangladesh
D. Pakistan
Correct Response: B. United Kingdom
https://www.reuters.com/world/uk-prime-minister-rishi-sunak-arrives-bali-g20-summit-2022-11-13/
10. China has violated Japan's sovereignty in the East China Sea and "continues to take actions that heighten regional tension in the South China Sea," according to THIS prime minister of Japan at the East Asian Summit in Cambodia.
A. Yoshihide Suga
B. Fumio Kishida
C. Koji Tomita
D. Asahi Kentaro
Correct Response: B. Fumio Kishida
https://japantoday.com/category/politics/kishida-tells-asia-leaders-china-infringing-on-japan%27s-sovereignty
Copyright: 2022 Tennessee World Affairs Council
---
THANKS TO OUR PARTNERS IN GLOBAL AFFAIRS AWARENESS AND EDUCATION OUTREACH

A PROUD MEMBER OF THE WORLD AFFAIRS COUNCILS OF AMERICA SINCE 2007
THANKS TO OUR PARTNERS IN GLOBAL AFFAIRS AWARENESS AND EDUCATION OUTREACH
THANKS TO OUR PARTNERS IN GLOBAL AFFAIRS AWARENESS AND EDUCATION OUTREACH

THANKS TO OUR PARTNERS IN GLOBAL AFFAIRS AWARENESS AND EDUCATION OUTREACH
THE MISSION of the nonprofit, nonpartisan Tennessee World Affairs Council is to promote international awareness, understanding and connections to enhance the region's global stature and to prepare Tennesseans to thrive in our increasingly complex and connected world.
THE VISION of  the Tennessee World Affairs Council is a well-informed community that thinks critically about the world and the impact of global events.