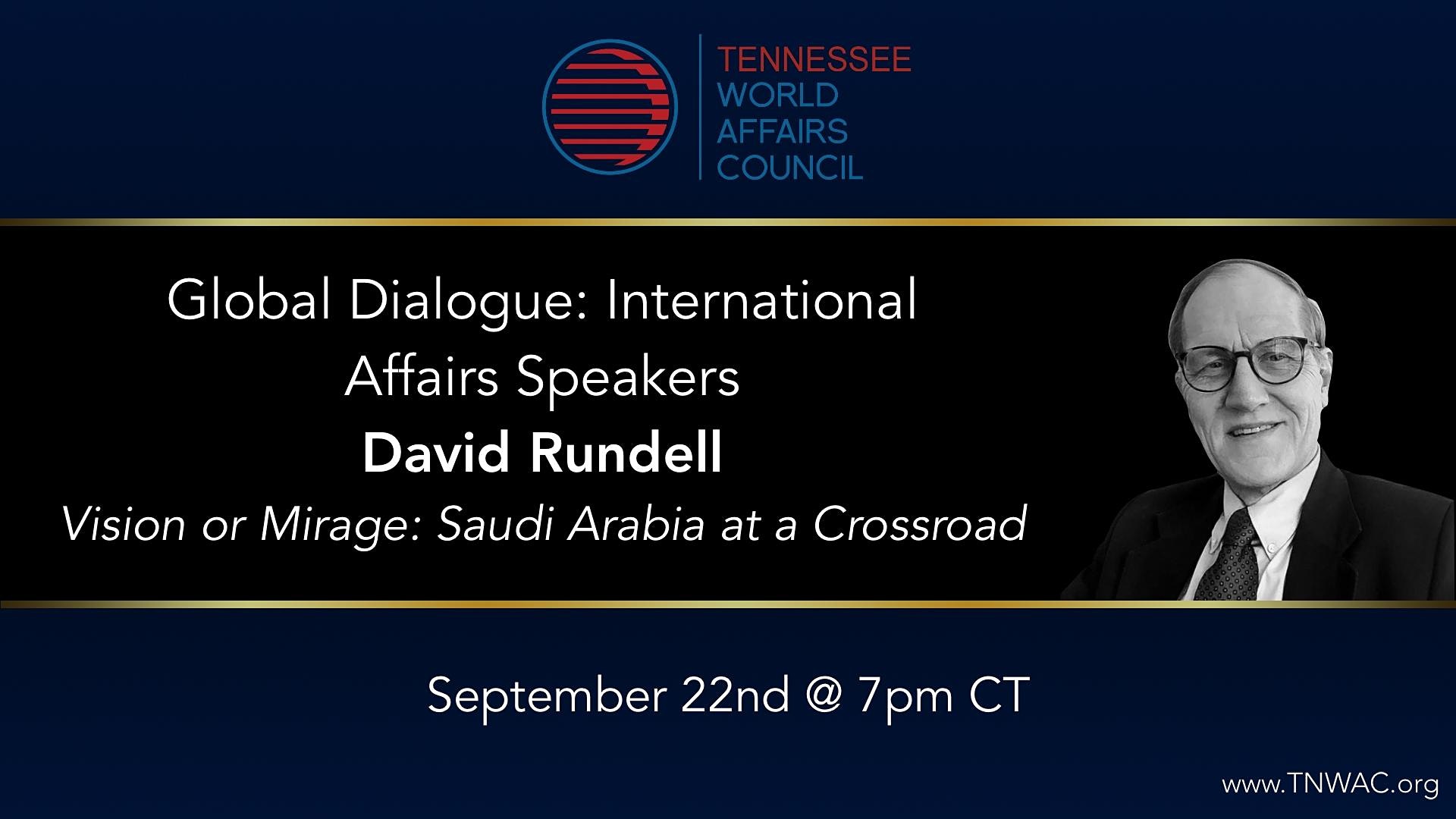 What image do you have when someone says Saudi Arabia?
Are you sure it's accurate?
Spend a little time with us as we talk with David Rundell, the American with the most experience as a diplomat in the Kingdom.
Have your questions ready.
This country is key to American policy in the Middle East. You should know more about it.
"In February 1979, the last Shah of Iran was overthrown by a violent Islamic revolution. Two years later when I arrived in the Middle East, many commentators expected Saudi Arabia's King Fahd would soon be the next monarch to fall. The Washington consensus held that we had paid inadequate attention to events outside of Iran's capital, Tehran. We did not want to repeat that mistake. So, as the American Embassy's most junior political officer, I was assigned to spend ten days a month for nearly two years traveling the byroads of rural Saudi Arabia to see what I could learn. I learned a great deal, and when I was done I argued against considerable skepticism that there would be no Saudi Revolution. Why was that my assessment then—and, more importantly, is it still correct today?"  — David Rundell
That is how David Rundell began his affair with Saudi Arabia and how he opened his book on the Kingdom he came to know during a large part of his thirty years as a United States Foreign Service Officer. He was posted to the U.S. Embassy in Riyadh and the Consulates in Jeddah and Dhahran. He served at various times chief of mission, deputy chief of mission, political counselor, economic counselor, and commercial counselor.
Join us for this Special Edition of Global Dialogue with David Rundell, author of "Vision or Mirage: Saudi Arabia at a Crossroad.
Something extraordinary is happening in Saudi Arabia. A traditional, tribal society once known for its lack of tolerance is rapidly implementing significant economic and social reforms. An army of foreign consultants is rewriting Saudi Arabia's social contract, King Salman is cracking down hard on corruption, and his dynamic though inexperienced son, the Crown Prince Mohammed bin Salman, is promoting a more tolerant brand of Islam. But is all this a new vision for Saudi Arabia or merely a mirage likely to dissolve into a more autocratic police state or an Iranian-style religious revolution?
David H. Rundell – widely regarded as one of America's foremost experts on Saudi Arabia – explains why the country has been so surprisingly stable for so long, is less stable today, and what is likely to happen there in the future. "Vision or Mirage" demystifies the world's last strategically important absolute monarchy. It will prove valuable to anyone interested in global energy markets, the Arab-Israeli conflict, counterterrorism or regional stability in the Middle East.
David Rundell served as an American diplomat for thirty years, fifteen of which were spent in Saudi Arabia. He worked at the Embassy in Riyadh as well as the Consulates in Jeddah and Dhahran. His assignments included Chief of Mission, Deputy Chief of Mission, Political Counselor, Economic Counselor, and Commercial Counselor. This is a unique record for an American diplomat, not only in Saud Arabia, but in any country.
David helped negotiate Saudi entry into the World Trade Organization. He made a crucial contribution to obtaining five-year reciprocal visas for American and Saudi travelers. He conceived and helped implement the Joint Commission for Critical Infrastructure Protection which has strengthened Saudi American relations as well as global energy security. He won numerous awards for his analysis and reporting from Saudi Arabia including four Superior Honor Awards and the Cox award given each year to the Foreign Service Office who has made the greatest contribution to American trade policy.
After leaving the State Department in 2010 David worked as a business strategy consultant for Monitor Deloitte for five years. In Saudi Arabia, this included work with the Saudi Ministry of Commerce, Ministry of Foreign Affairs, Saudi Aramco, the King Abdullah University for Science and Technology (KAUST), and the Saudi Arabian General Investment Agency (SAGIA). For the past five years, David has been a partner in Arabia Analytica a consulting firm based in New York, Washington and Dubai. His new book Vision or Mirage, Saudi Arabia at a Crossroads will be published by Bloomsbury in New York and London this fall.
David holds a B.A. cum laude in economics from Colgate University and a M.Phil. in Middle East Studies from Oxford University. He lives in London and Dubai with his wife and daughter.
David has been actively engaged in the production of oil and gas in the Permian Basin of West Texas and New Mexico for over 30 years.