Thank you for your support. TNWAC is a public service bringing you global affairs awareness and education!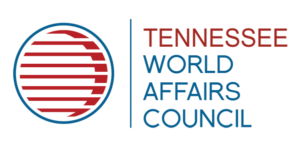 THIS WEEK @ TNWAC
March 28, 2022
Dear Members and Friends:
What's up this week? 
This week we're returning to in-person programs at the World Affairs Council. The Distinguished Visiting Speaker Program will feature an eminent authority on Russia, Ukraine and the war in Europe. Join us Thursday evening at Belmont University for a unique opportunity to talk with Dr. Roger Kangas of the Defense Department's National Defense University. [Below]
Madam Secretary. Last week the country lost Dr. Madeleine Korbel Albright, former U.S. Ambassador to the United Nations and 64th U.S. Secretary of State, and the first woman to hold the post. We note the passing of this giant on America's diplomatic stage with a tribute from current Secretary of State Antony Blinken. [Below]
We look forward to seeing you Thursday evening at Belmont to talk with Dr. Roger Kangas about Russia and the Ukraine!
Wishes for a safe and prosperous week and, as always, thank you for clicking on the "Donate" button. And please keep the people of Ukraine in your thoughts.
Sincerely,
---
…
MARK THE CALENDAR
Mar 30, Wed, 10 am — Global Dialogue | Why Climate Change is a Business Matter with Gary Garfield in person at Belmont University and via Zoom Webinar [Details/Register]
Mar 31, Thur, 6 pm CT – In Person | Global Town Hall | Russia, Ukraine, Europe and the United States with Dr. Roger Kangas of the National Defense University | Belmont | [Details/Register]
Apr 13, Tues, 10am CT – Zoom | Amb John Kornblum from Berlin | War in Europe: Understanding the latest developments | Save the date | Registration TBA
May 24-25 Saudi Arabia: Beyond the Headlines | US-Saudi Relations; Commercial Connections; and Saudi Arabia in transition. Day 1 – Tuesday – 11:30-1:30 pm | Day 2 – Wednesday – 11:30-1:00 pm [Details/Sponsor Info]
All Times US Central Time Zone
Additional programs are in development. Stay tuned via the TNWAC newsletter. HERE
---
IN-PERSON | RUSSIA'S WAR IN UKRAINE THROUGH THE LENS OF U.S. POLICYMAKERS
Join us for a Global Town Hall with Dr. Roger Kangas on Thursday, March 31st at 6:00pm CT at beautiful Belmont University.
Vladimir Putin's likely hoped-for lightning strike into Kyiv to decapitate the Zelensky government and subjugate the country has bogged down amid Russian military incompetence and Ukrainian resolve and heroism. The implications of war in Europe are being felt around the world.
Dr. Kangas, an Academic Dean at the Defense Department's NESA Center at the National Defense University works at the intersection of scholarship and policymaking. He is fresh from a visit of former Soviet republics and will discuss the context of the war in Europe and its implications for United States and European interests. Dr. Thomas A. Schwartz, Distinguished Professor of U.S. foreign policy history at Vanderbilt will join the conversation as moderator.
Don't miss this special opportunity to get inside the Washington approach to the war in Europe. [Register Now]
SPECIAL PROJECT | IMPACT: JAPANESE BUSINESS INVESTMENT IN TENNESSEE
TNWAC is working with the Japan-America Society of Tennessee to produce a series of interviews on the effect of Japanese foreign direct investment (FDI) on the economic fortunes of Tennessee. A dozen interviews with transcripts and links to Podcasts are posted to the TNWAC.org web site (scroll down on homepage). We have recently added our conversation with Senator Lamar Alexander, who as Governor of Tennessee was the "chief architect" behind Tennessee's opening the door to Japanese businesses. [Sen. Alexander]
GREAT DECISIONS
Great Decisions is America's largest discussion program on world affairs. The program model involves reading the Great Decisions Briefing Book, watching the documentary film series and meeting in a Discussion Group to discuss the most critical global issues facing America today. You can get the book and videos at the FPA.org web site and now TNWAC members and friends have been invited to join the eight-part discussion group organized by our friends in Delaware, Ohio. Details and registration HERE.
MADAM SECRETARY
Antony J. Blinken, Secretary of State
Madeleine Albright was a brilliant diplomat, a visionary leader, a courageous trailblazer, a dedicated mentor, and a great and good person who loved the United States deeply and devoted her life to serving it. She was also a wonderful friend to many, including me. I'll miss her very much.
Having arrived here as a refugee at age 11, she never forgot the generosity that America extended to her family when they needed it most. Having seen America at its best, she pushed relentlessly for us to live up to our role as a moral beacon and defender of freedom. And having experienced the horrors of war firsthand – fleeing Czechoslovakia after the Nazis invaded, then hiding in shelters as German bombs fell on London – she believed that the United States must respond forcefully to dictators and tyrants. She created the Community of Democracies, a coalition of countries that defends democratic values around the world. And thanks in no small part to her, Poland, Hungary, and the Czech Republic joined NATO, and the United States defended ethnic Albanians in Kosovo against Serbian aggression. Today, there's a square and a street in Kosovo named for Madeline, and a statue of her stands in the capital.
When she was nominated to be Secretary of State, some openly questioned whether a woman could go toe-to-toe with world leaders. Madeleine quickly quashed those misguided doubts. There was simply no doubt that, in any room, she was as tough as anyone and often tougher. That said, it wasn't always easy. She described walking into her first meeting of the UN Security Council as the U.S. ambassador: "15 seats and 14 men, all looking at me." But when she saw the plaque at her seat that read THE UNITED STATES OF AMERICA, her nerves vanished: "I thought, if I do not speak today, the voice of the United States will not be heard. When I finally did speak, it was the first time that I represented the country of my naturalization, the place where I belonged."
Madeleine mentored a generation of diplomats and national security experts. I'm one of many who benefited from her wisdom and encouragement. And in her post-State career, she dedicated herself to teaching, continuing to invest in our future diplomats and leaders.
After leaving the State Department, when asked if she was relieved not to be dealing with crises around the world, she'd say simply, "I miss it every day." She loved this country. She loved this Department. And we loved her back.
To our very first Madam Secretary – thank you.
Source: U.S. State Dept.
---
TNWAC RECOMMENDS
BELMONT UNIVERSITY ASIAN STUDIES SYMPOSIUM
CLICK FOR APR 4-8 PROGRAM DETAILS
---
Link to these programs in "Council Highlights" below.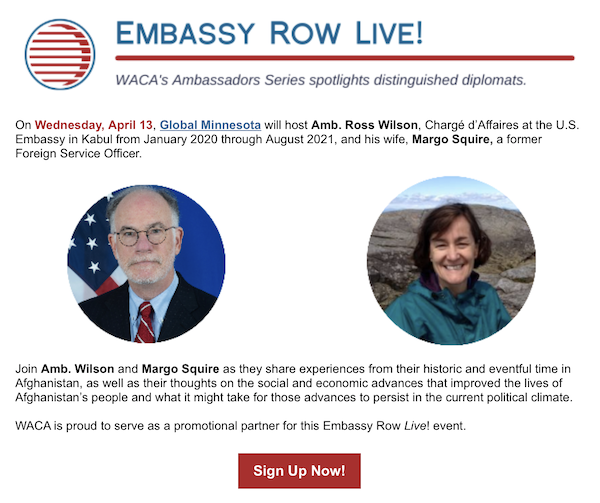 ---
Thank you for your support of global affairs awareness and
education!
THANKS TO OUR PARTNERS IN GLOBAL AFFAIRS AWARENESS AND EDUCATION OUTREACH


TNWAC IS A PROUD MEMBER OF THE NETWORK OF WORLD AFFAIRS COUNCILS OF AMERICA

THANKS TO OUR PARTNERS IN GLOBAL AFFAIRS AWARENESS

THE MISSION of the nonprofit, nonpartisan Tennessee World Affairs Council is to promote international awareness, understanding and connections to enhance the region's global stature and to prepare Tennesseans to thrive in our increasingly complex and connected world.
THE VISION of  the Tennessee World Affairs Council is a well-informed community that thinks critically about the world and the impact of global events.